Vice President Pence to speak at 9/11 memorial ceremony near Ground Zero
The nonprofit Tunnel to Towers Foundation plans to host the independent memorial after the National September 11 Memorial & Museum canceled its in-person name-reading ceremony
---
By Laura French
NEW YORK — Vice President Mike Pence will speak at a 9/11 memorial ceremony near Ground Zero on Friday, the organization hosting the ceremony announced Tuesday. 
The nonprofit Tunnel to Towers Foundation organized the event after the National September 11 Memorial and Museum announced it would play a pre-recorded reading of the names of those killed in the World Trade Center terrorist attacks instead of holding an in-person ceremony, due to COVID-19 concerns.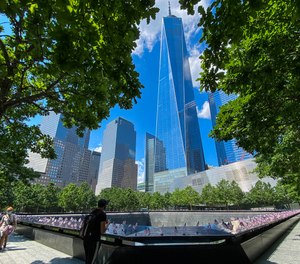 "The Tunnel to Towers Foundation is honored that Vice President Pence will be in attendance at its Reading of the Names ceremony on 9/11. His presence signals the immense gravity of the day and so appropriately honors the fallen, who gave their lives for us 19 years ago," Tunnel to Towers Chairman and CEO Frank Siller, whose brother FDNY Firefighter Stephen Siller was killed responding to the attacks, said in a statement. 
The foundation has stated that attendees at the ceremony will be required to wear face coverings and that social distancing guidelines will be enforced. Organizers also plan to have each reader wipe down the microphone after reading the name of their fallen loved one. 
The FDNY has urged its members not to participate in 9/11 memorial events this year due to the pandemic.
"While our workforce has a high level of health and fitness, we must remember that many of our September 11th families and retired members - who we would normally welcome and encourage to attend September 11th events - are in groups that are most at risk for COVID-19 due to age and health," FDNY Commissioner Daniel Nigro and Chief of Department John Sudnik stated in a letter to membership issued on Aug. 17.