Move over, urges paramedic who lost leg after being struck
Rory Barros, who was hit by a drunk driver while responding to a crash, explains why giving up has never been an option
---
For Rory Barros, a career in public safety is not just a job – it's a lifestyle.
In fact, his family roots run deep in service to others. His grandfather, a 31-year veteran firefighter, was also a battalion chief; his great-grandfather was hired as the first employee of a California county fire department; his dad and uncle were both volunteer firefighters.
Their dedication to serve their communities inspired Barros to become a volunteer firefighter himself. However, after 8 years as a volunteer, an ankle injury forced Barros to retire from firefighting.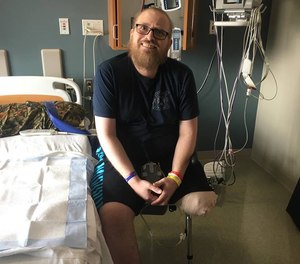 "I was concerned that if I would have to go into a building, and let's say my ankle went out, then my fellow firefighters would have to come and save me," Barros said. "I didn't want to put two guys in danger. I ended up looking at where else I could help."
When Barros's mother and stepfather decided to move to Texas five years ago, he followed them – thinking it would be the perfect opportunity to go to nursing school. Instead, he decided to enter into emergency services.
"At the end of the day, it was a good choice, but it was also really hard," he said.
An EMT with East Texas Medial Center for three years, Barros was five days away from becoming a paramedic when his life drastically changed.
Surviving a horrific crash
On Aug. 19, 2017, Barros was working a 5:30 p.m. to 5:30 a.m. shift.
"We ran anywhere from 11 to 14 calls in a 12-hour shift. We had just gotten off a call and posted miles down the road," he said. "We had a student who was one of my fellow classmates in the paramedic program riding with us that night. We were about to start studying when we got a call."
Dispatch gave Barros and his crew directions to the incident scene. Upon arrival, they found a car that had hit a guardrail. The car was wedged in between the guardrail and the damage had caused the passenger side to blow open. When they got out to access the car and its potential victims, they found it empty.
"The other side of the freeway, the northbound side, was a wooded area and there was a homeless camp in there. We thought maybe they got out and went down there. We looked at the other side of the shoulder and couldn't find anyone," Barros recalled.
He and his classmate were walking back to the scene when they saw a man come out of the woods, covered in brush.
"He said his foot hurt. We were checking him out in the back of the rig, talking to him." Once they were finished treating the man, Barros and his crew helped him out and handed him over to the police officers, who had turned up a warrant.
"I opened the door, looked around from where I was standing, and saw a good mile and a half down the freeway," Barros said. He told his student they were clear, and they exited the ambulance.
That's when Barros saw a car coming down the freeway. At the time, he wasn't concerned or alarmed because the car wasn't driving erratically.
"My partner stepped out, walked down to the truck and that's when she looked back over at the lane of traffic and told me that there was a car that wasn't slowing down," Barros recalled.
When Barros looked over, he saw the headlights on the car – coming straight for them.
"I looked back at my partner and yelled at her to run. She ran toward the back of the truck and I ran forward. I started thinking and realized that I should turn around. I ran as fast as I could to the back of the ambulance. I could see the headlights in my peripheral."
A secondary collision
Barros thought he had run far enough, but the driver ended up striking him.
"The next thing I remember is getting hit and having the wind knocked out of me. And then, when I came to, I realize that I'm sliding across the freeway on my side. I can hear all the metal crashing and screeching."
When Barros stopped sliding, he tried to curl up in a ball.
"When I stopped sliding, so did the noise. Then I was like, 'OK,' and I kind of relaxed a little bit."
Barros then rolled onto his back and let out a yell.
"Everyone on scene said they could hear me," he said. "They all said it looked really bad. When they heard me scream, they thought that was good news."
The driver had hit Barros, rolled him down the side of the car and he was thrown up in the air and out of the lane of traffic.
"I don't remember getting thrown," he said. "I remember getting hit and then landing."
When other first responders reached Barros, he had started assessing his own injuries – in true first responder fashion.
"I could feel my legs, but they felt messed up; my hips also felt funny. I told them I couldn't breathe. I was trying to help them – I just kept telling them that I couldn't get a full breath; I didn't feel like I was right."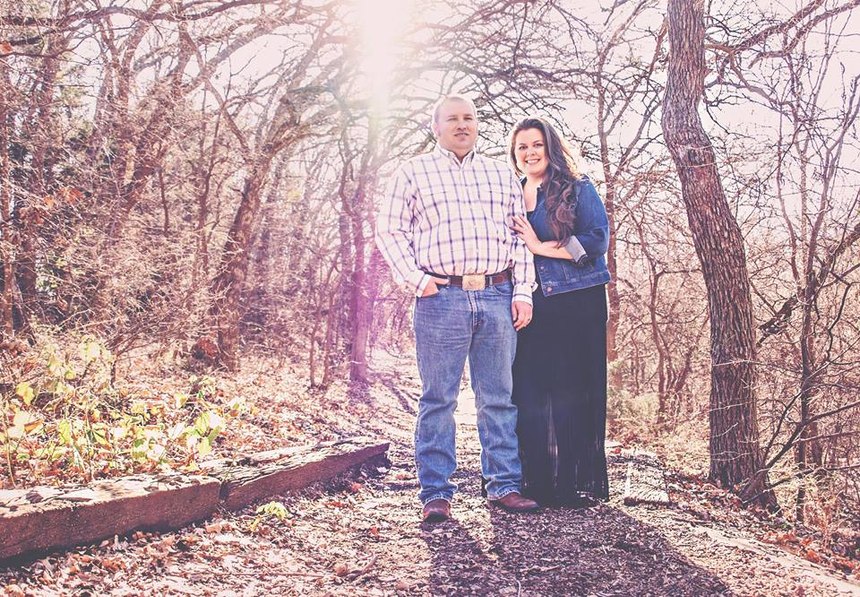 The provider becomes the patient
Barros was put on a backboard and remembers telling the other responders that he didn't feel centered and felt like he was going to fall off.
"When we got into the back of the truck, I kept telling my classmate that we had to go. Something was wrong."
Once in the back of the rig, Barros heard a loud, clunking noise. His partner came to the back to tell him that there was an issue with the rig.
"I remember having a sinking feeling. They called my name over the radio, asking for additional units. Another ambulance later pulled up and we took off."
His partner, who was starting IV and fluids, reached across him to call in the radio report.
"I remember getting to the hospital and my crew talking to me so that I didn't lose consciousness. I remember going in and getting moved over to the ER table. The ER staff, who I knew from taking patients in, were also talking to me to keep me awake."
Barros was later sedated due to the intense pain he was experiencing and the severity of his injuries. The entire left side of his hip was crushed; he had an open tibia/fibula fracture, a broken pelvis, internal degloving of his left leg, two broken ribs, an avulsion to his right calf, internal degloving of his right hip and a broken pinky and pinky toe on the right side.
Barros doesn't remember much from the first week in the hospital.
"It's really fuzzy. They did find the bleed in my pelvis and I ended up having a 10 or 11-hour reconstructive surgery on my pelvis alone," he said.
During his four-month stay in the hospital, Barros had a total of 15 surgeries.
Deciding on amputation
For a time after the accident, Barros had movement in his toes on his left leg. However, it got to the point where the only movement he had was in his pinky toe.
"My knee was so blown out that doctors said they wouldn't do any reconstructive surgery on it," he said.
That's when a surgeon came in and told Barros the cold, hard truth.
"He told me that if I went home with my leg, that I would have five-degrees of motion. I would not get out a wheelchair; I would have pain for the rest of my life and be miserable."
For Barros and his wife, the decision to amputate his lower left leg came down to quality of life.
"They had always told us that it was an option, but we didn't want to convince ourselves that it was. We just kept saying it would get better."
Barros and his wife had a long talk and asked the surgeon what he would be able to do and his limitations if they decided to go ahead with amputation.
"He told me that you're as limited to as much as you limit yourself. Once we talked about it, and talked to a couple of people, including other amputees, we made the decision."
The decision, without a doubt, was a difficult one to make. "The decision was very emotional. You're born with two legs. It's not a natural thing to lose one," Barros described.
On Dec. 3, 2017, Barros had his amputation. After the surgery, a six-inch deep wound on his left hip healed completely in under a week.
He wears a prosthetic 90 percent of the time and is able to walk around with a cane.  He's currently working toward getting a microprocessor prosthetic knee to have a more durable, smart knee.
A quarter of his leg doesn't have any soft tissue, which is the main concern with prosthetics. Luckily, he has tissue for padding exactly where he needs it.
"Things are going very, very well – considering it hasn't even been a year yet since my amputation," he said. "I've been blessed with no further infection."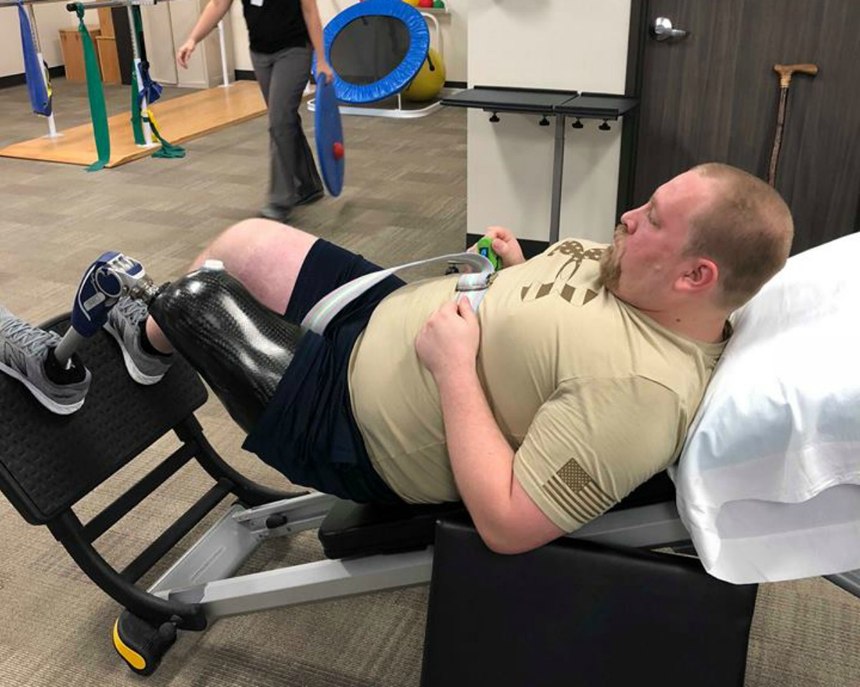 Fighting to get back to EMS
Barros is currently working part-time as a dispatcher in Waco. He was working full-time, but wanted to focus on PT to get back up on his feet completely. He has physical therapy twice a week, but also does PT on his own at home at least four to five days a week.
"I want to get back to work; my heart is there. That's where my family line is. I know the field is very physically demanding. It's very had on our bodies – even if I wouldn't have gotten hurt. I want to go back as long as my body will let me."
He says his drive is a big factor that keeps him motivated, but there are many other factors that keep him going.
"There are a lot of people who have given me their best – my wife, my family, my friends, my coworkers. They have all done something for me to help me. I want to do everything I can for myself so that I can show them that I'm doing what they've done for me. If you give me 100 percent, then I'm going to give you the same back."
That mindset is something Barros has always prided himself on – even before the accident.
"Waco, as a community, came together and did golf tournaments, fundraisers at restaurants; these people didn't even know my name but they came out and supported me. It's hard for me to sit there and just not do anything when so many people have given me the best shot that I can to get better," he said.
And because of that support, Barros was able to go back to work before the one-year anniversary of the accident.
"I wanted to get back to help the community that helped me. I've done that. Now, I'm doing everything I can on my part to make sure I get better so that I can accomplish my goal of getting back to work. I want to be able to show everyone that it's hard, but it can be done."
Raising first responder safety awareness
Barros admitted that he realizes there's no definitive end to his situation.
"There's no start and stop. I'm going to be dealing with this for the rest of my life. Something is always going to be changing. My wife and I refuse to let this person, who changed my life forever, be the reason why I'm angry or upset."
Instead of looking at the negatives, Barros has decided to look at the positives. He's using his situation as a platform to show people that good things can come out of a bad situation.
"There's ultimately two roads – you can either do what I've done and be happy and make a positive situation out of it or you're going to be miserable and truly unhappy," he said.
And Barros isn't giving up – now or later.
"I don't want to give up. The best thing is support. It's very true when they tell you if you surround yourself with good people, then good things will come out of it. I feel like I was able to surround myself with the most positive, supportive and influential people that I could."
Barros, who didn't realize how far he could push himself until it was absolutely needed, said he also wants to make sure no other responder is put into a similar situation. When given the opportunity, he makes it a priority to remind others to watch out for first responders.
"Take notice of them; follow your state laws and move over. If I keep saying this then maybe one day that will be the difference for someone else; if one person moves over and doesn't hit another first responder, then I've done my job. I'm doing my part to raise safety awareness for our first responders."