11 keys to success for the rookie EMT
Breaking down some light-hearted and professionally-serious tips to start and build a successful career in EMS
---
The cost of replacing a medic, both financially and in time invested, is steep. Finding and hiring promising candidates is only one piece of the staffing puzzle. In an EMS1 Special Coverage Series, "Year One: Creating a career path for new EMTs," learn how to onboard team members to set them up for long-term success, through the first 90 days, the first 6 months and beyond.
"Welcome to the study of paramedicine and the industry of EMS!"
Has anyone ever told you that as a rookie EMS provider?
Or, have you simply been told to "keep your ears open and your mouth shut?"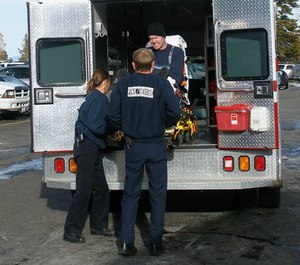 Entering this profession – at any age, pay structure, experience level – can be intimidating ... but also welcoming at the same time. As a new technician, clinician, employee, lifelong learner, etc., the goal of everyone truly invested in this study and industry is to keep you engaged, invested and around! So, what has the past nearly 20 years of my experience taught me – what can I share with you – to help you build (and maintain) a successful career in EMS? [At the end of this article, download a printable guide to success for new EMTs]
For starters, success looks differently for everyone. For some, it means starting your career with one agency and ending (with retirement) at that same agency decades later. For others – and I'll use myself as a prime example – it means learning, growing, failing, building resilience and pushing forward (sometimes multiple times) but nevertheless, remaining invested. Just like the stock market, if you don't invest in it, you certainly can't win with it!
In no particular order of importance or level of seriousness, here's a few keys to success for those of you entering into the EMS profession (or for those of you continuing to find your way).
1. Carry a pen, shears and flashlight
This is just life tip No. 1, or EMS tip No. 1: always have a pen, trauma shears and a flashlight of some sort available on you for every call. Pens may not work on your tablet, but you'll be surprised how often you'll still need this antiquated piece of writing equipment in the field. Trauma shears are also a must. Murphy's Law will tell you that you'll never be able to find the black-handled shears in the bottom of your black-lined bag, so simply carry a pair on you and you'll avoid having to blindly (frantically) search for them when you need a pair now. Lastly, a flashlight – even an itty-bitty keychain one that you picked up at an EMS conference – can shed a lot of light when you're surrounded by darkness.
2. Learn where everything is
Red bag, blue bag, green bag, no bag (sounds like a Dr. Seuss rhyme)! Even if you don't know what it is, learn where to find it within your ambulance and multiple bags.
3. Learn where you're going
You don't necessarily need to become as proficient as Google Maps on day one, but at the very least, do some daily studying to know where your hospitals are and which major roadways will get you there.
4. Know your equipment's operations
Especially your stair chair and cot (stretcher, or pram – which I still refuse to call this device): know the proper ins-and-outs for how to utilize and troubleshoot these devices. What if a wheel seems locked, or your battery goes dead? Know how to operate these devices so proficiently that you can seamlessly operate them even in trouble mode.
5. Know (and learn) what you don't know
Respect that you only have upwards of 200 hours of training as an EMT and that you're at the beginning of your paramedicine study journey. Be confident in what you do know, while also respecting what you don't.
6. Never settle for the minimum
Whether it's the standard of care, patient compassion, continued educations hours, or anything else that you encounter, never settle for the minimum. This doesn't mean that every patient you care for needs IV access or lights and siren transport ... that's not the point here. Always be looking to do one step better (which doesn't always equate to one thing more).
7. Remain ambitious
Keep your passion alive and continue with your "better" philosophy. This, as a reminder, is a personal goal and benchmark, not something that you should compare yourself to others on. Don't strive to be better than someone else; rather, remain ambitious to do better than before.
8. Keep your head up (high)
When you do something right, well or even great, keep your head up high. Equally so, keep your head up high when you don't necessarily succeed – when you miss that IV attempt, get buried with the wrong differential diagnosis or even make a simple mistake. Be cautious, however, not to allow positivity to turn into arrogance. Be humble; not heroic.
9. Enjoy your time
If you don't enjoy coming to work each day, then don't! Either find a way to embrace enjoyment in your job, or find someplace else where you can enjoy your time. Your happiness is not within your boss's control ... this is on you!
Having said that, this doesn't mean that you need to settle or force yourself into a positive attitude when working in bad environments or with incompatible partners. You deserve to enjoy your job ... so if there's a factor existing in the way of that enjoyment, reach out to mitigate that factor or remove yourself from the situation. Yes, it's easier said than done, but you have the most control (and awareness) over your direct surroundings, so if you don't like the surroundings, then do something about it (speak up, move out, etc.).
10. Seek out a mentor
Surround yourself with others who are invested, too. Mentors can be internal or external – they don't need to be within your EMS agency. Need a mentor? Look around, find positive sources online or at conferences. Heck, find me on LinkedIn ... I'm glad to chat!
11. Focus on safety
You may only have one shot at safety, so if you embrace, prepare for and practice it every day, you're more likely to remain safe in what you do. Reduce the risk of errors occurring around you, remain appropriately visible and always size-up your scene before you enter it. This doesn't necessarily equate to paranoia, but it does equate to preparedness.
---

Learn more:
Achieving EMS mastery
Find a mentor, start with what's important and train like you fight to accelerate your EMS training and become an expert
---
Fill out the form below to download a printable guide to success for new EMTs.
GUIDE TO SUCCESS FOR NEW EMTS