Reality TV series spotlights Shock Trauma medical professionals
The docudrama follows a team of medical professionals as they assist and treat trauma patients at the center named for R Adams Cowley
---
BALTIMORE — A new docudrama series called "Shock Trauma: Edge of Life" follows a team of medical professionals from the R Adams Cowley Shock Trauma Center, University of Maryland, as they assist and treat trauma patients.
The Discovery Life's new unscripted series shows physicians and trauma surgeons alongside residents, fellows, nurses, patient care technicians, and an array of specialists, perform lifesaving medical care in the first and highest volume trauma center of its kind in the United States. 
An international model for civilian and military trauma teams, Shock Trauma is also the epicenter for trauma research, patient care and teaching, both nationally and internationally today.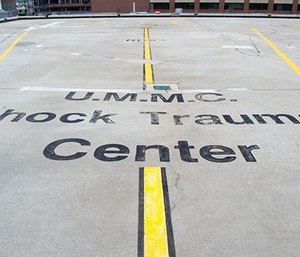 Since its inception more than four decades ago, Shock Trauma has provided world-class treatment for the region's most critically ill and injured patients. Shock Trauma, the heart of Maryland's Emergency Medical Services System, is named for R Adams Cowley, MD, considered the father of trauma medicine who pioneered the "golden hour" concept and many of the life-saving practices in modern trauma medicine. 
"'Shock Trauma: Edge of Life' depicts the hard work, skill and dedication of our faculty physicians and the entire team at Shock Trauma," said University of Maryland, School of Medicine, Dean E. Albert Reece, MD, PhD, MBA. "Watching these men and women in action highlights the essential job they do, and underscores the importance of the work that we all do every day."
The shock trauma center runs under the leadership of Physician-in-Chief Thomas M. Scalea, MD, FACS 
"No one gets up in the morning expecting to end up as a patient at Shock Trauma," said Scalea. "Our team is committed to giving every person a second chance. The incredible stories of survival and recovery that happen here every day are not possible without the collaboration of partners who together make up Maryland's safety net for our most critically injured and ill patients."
The series, produced by Susan Hadary of MedSchool Maryland Productions (a division of UM SOM) for Discovery Life, premiered Friday, Jan. 1 at 10 p.m. EST and will air on subsequent Fridays in January and the first week of February. Each episode captures in dramatic detail the fight to save lives when every second counts. The series shows the Shock Trauma team treating a variety of serious injuries, including motorcycle and car crashes, frostbite, gunshot wounds and severe brain trauma.