Data: How often does EMS respond to injured football players
ePCR data from more than 1,000 EMS agencies filtered to understand frequency and type of football players injuries
---
Injured athletes treated by EMS have always received local media coverage, but the glare is brightening with increasing concern about the long-term severity of football injuries with the concurrent decline in youth football participation in the United States.
There is a football field, likely many, in every EMS response area. Those fields are used by grade school, middle school, high school and college players for practice and games from mid-summer to early winter. How many football fields are in your response area and how often are those fields in use?  
Football injuries and illness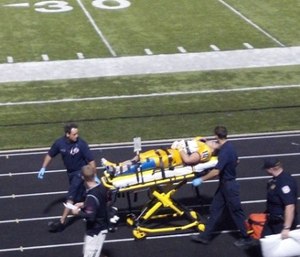 Football players, like most athletes in contact sports, are at risk of traumatic injury and medical illness during practice and competition. The injuries and illnesses most commonly associated with football include:
Mass media interest in football injuries
There is a high-level of interest in football player injuries, especially for college and professional players, as well as the long-term impact of those injuries. Every sports page and sports media website reports on the decline in participation and player injuries, features in-depth investigations on the link between concussions and chronic traumatic encephalopathy, and interviews experts about the treatment and rehabilitation players need before returning to play.
Since high school and college football games are sure to have print, web, radio or television coverage, any EMS response to an injured player, coach or official is going to be covered in the evening newscast and morning news. Many games are live broadcast, so the actions of EMTs, paramedics and athletic trainers are likely to receive play-by-play coverage and analysis from fans live-streaming the action on their smartphones.
Twitter users provide regular reminders about football participation and injury. @37919KJ tracks schools which cancelled their season or forfeit games due to low participation or player injury. @ConceredMom9 finds and retweets injured football player news to increase awareness. Here are two recent tweets:
"The organization said Thomas fell during a play in the third quarter and reported an issue with the feeling in his leg. The GHSA said there was no indication of an injury in the second quarter." https://t.co/eRTnWUxK5G

— Concerned Mom (@ConcernedMom9) October 2, 2018
EMS response to football injuries data
To better understand the EMS response to injured football players I queried the ESO EMS Index, which aggregates data from more than 1,000 EMS agencies. I asked these questions:
How often was EMS dispatched for an injured or ill player at a football field?
What were the top primary impressions or diagnoses for those patients?
How often is the treatment of spinal immobilization or spinal motion restriction applied to an injured football player?
From July 1, 2017, to Dec. 31, 2017, the agencies in the EMS Index responded to 647 football injury incidents – a tiny fraction of the 3,105,323 total incidents (.021 percent) in that six-month period. It's important to note this data is from NEMSIS 2 reporting. NEMSIS 3 doesn't have a specific option to identify a football injury and similar data won't be available in 2018.
The 647 patients encountered by EMS had an average age of 15 years old. The oldest patient was 59 – likely a coach or official – and the youngest patient was just 6 years old. Most football injuries happened in September.
Why do you suspect injuries are higher in September than the month before or after?
One of the most interesting findings was that 88 percent (567) of the incidents were 911 responses. An ambulance was onsite for only 12 percent of incidents. In 2015, we asked EMS1 readers, "Does your department provide at the field standby of an ambulance for high school football games?" Eighty-five percent of our convenience sample answered, "Yes."
Presumably, EMS field standby is unlikely for grade school and middle school football games, as well as practices for players of all ages. It also strikes me as a sensible allocation of resources to only have an ambulance standby at games that are three- to six-hour mass gathering events attended by hundreds to tens of thousands of people. Is an EMS response to a game more common than to a practice in your service area?
The top treatment EMS provided was spinal immobilization, for more than one-third of patients. Splinting was the second most common injury treatment.
Both injury types likely require the removal of player protective equipment and collaboration with athletic training staff. The techniques and teamwork required to apply spinal motion restriction to a football player should be practiced early in the season without the glare of the bright lights; local media; and rapt attention of all players, coaches and fans that comes when a player has sustained an injury during a game.
The severity of injuries, confirmation of field diagnosis, lasting injury impact and return to play decision is not included in an electronic patient care report. Though it's a potential clue that 72 percent (466) of patients received "No Lights and Siren" transport – an intervention that rarely has clinical significance for the patient.
Injured football player care by EMS
Football injuries, like other high-profile and media-scrutinized incidents, even though relatively rare, necessitate preplanning and training. Here's what to do at the start of every football season.
1. Review, update protocols. In collaboration with your medical director and the team's athletic training staff, review protocols for football player injuries, especially for long bone fracture stabilization and spinal motion restriction application.
2. Train the EMS, athletic training response. Use hands-on training to build relationships, compare equipment, synchronize protocols and prepare EMS personnel and athletic training staff for assessing, lifting and moving the injured athlete.
3. Preplan for media and fan scrutiny. The public – in the stands and at home, as well as local media, school officials and elected representatives – are likely to comment on and question the EMS response and treatment to an injured player. Your actions will be live streamed and posted to social media. Be ready to answer questions about your decisions to provide standby services (or not), the personnel who responded and the training they have completed to provide care.
Limitations of the data and analysis
To generalize the data from 1,000 EMS agencies is not possible without knowing several additional data points. Those include, but are not limited to, the total number of EMS agencies in the United States which respond to 911 calls at football fields or are pre-positioned during games, the percentage of the football player population covered by the 1,000 agencies in the EMS Index and the time range of the football season. College football players have a spring season and a bowl season which extends into January.