British engineering student designs innovative medical kit for air ambulances
The design of the kit is meant to speed up lifesaving measures by preventing paramedics from having to rummage through equipment
---
UNITED KINGDOM — A British engineering student has created a medical kit for air ambulances, designed to increase efficiency in retrieving and utilizing equipment.
Hal Dubuisson, who recently graduated from Queen Mary University, invented the kit as part of his studies after observing paramedic training and noticing the "negative impact" of the way equipment was being transported, according to the East London Advertiser.
Dubuisson designed layout of the kit like a book, so medics are easily guided to the next piece of equipment instead of rummaging for the right tool.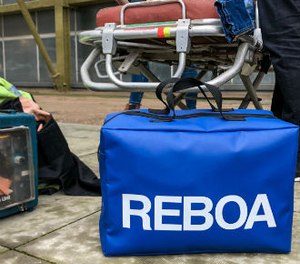 Equipment for resuscitation and endovascular balloon techniques are contained and organized in the kit, which will now be used by the Royal London Hospital Air Ambulance.
London Air Ambulance Dr. Samy Sadek says the kit will especially help crews utilize the balloon technique, in which a miniature balloon is inflated into a patient's artery, in a mobile setting.
"We only perform this procedure on the most critically injured patients in stressful circumstances where we are up against time. Hal's clever design makes performing the artery procedure simpler and quicker – it's going to help us save lives," Sadek said.