Research: Minn. mobile ECMO program improved cardiac arrest outcomes
Studies found that the use of ECMO boosted survival rates for out-of-hospital cardiac arrest patients and that the Minnesota Mobile Resuscitation Consortium demonstrated 100% successful cannulation
---
By Laura French
MINNEAPOLIS — A mobile extracorporeal membrane oxygenation (ECMO) program in Minnesota boosted survival rates for out-of-hospital cardiac arrests, according to new research out of the University of Minnesota Medical School, Center for Resuscitation Medicine. 
A study of patient outcomes led by Demetris Yannopoulos, M.D., a cardiologist and professor of medicine at the Center for Resuscitation Medicine, showed that the use of ECMO by the Minnesota Mobile Resuscitation Consortium (MMRC) as part of a broader program of care for cardiac arrest resulted in the survival of six out of 14 patients, compared with just one out of 15 patients receiving standard treatment, according to a National Heart, Lung, and Blood Institute (NHLBI) news release.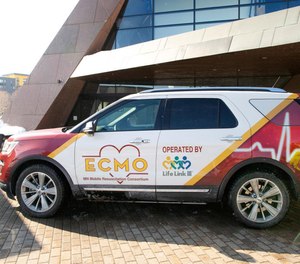 The Advanced Reperfusion Strategies for Refractory Cardiac Arrest (ARREST) study, published Friday in The Lancet, also found that all six patients who survived to hospital discharge after receiving ECMO were alive and well at three-month and six-month follow-ups, compared with none of the patients who received standard treatment. 
"This is the first trial to show the significant difference in outcomes after hospital admission among patients treated for out-of-hospital cardiac arrest with a team-based ECMO strategy," said George Sopko, MD, MPH, program director in the NHLBI's Division of Cardiovascular Sciences, in a statement. "We can improve outcomes for this common health condition, and we believe this study is a significant step in that direction."
Investigators on the ARREST study noted that a full team-based program of care was involved in improving the survival of cardiac arrest patients, not ECMO alone. However, the use of ECMO was a defining factor in survivability, according to Yannopoulos. 
"The findings from the trial make an important statement that early implementation of ECMO is the enabling and necessary condition that allows further advanced targeted therapies to be delivered in those critical patients. In its absence, the life-saving treatment that follows is just not possible," Yannopoulos stated.
A separate University of Minnesota study, also published Friday, in the EClinicalMedicine Journal, showed that the MMRC demonstrated 100% successful cannulation for out-of-hospital cardiac arrests during its first four months of operations. 
Of the 58 patients treated by the MMRC's SUV response team, all were successfully cannulated and 43% were discharged from the hospital with either a return to normal daily living or with minimal disruption to their daily life, according to a research brief from the university. 
"With our mobile teams and cardiac arrest toolkits, we are able to deliver the expertise and equipment needed to stabilize people suffering cardiac arrest within as little as 30 minutes," said MMRC President Jason Bartos, who is also an assistant professor at the University of Minnesota Medical School, in a statement. "The ability to deliver these life-saving capabilities so quickly and reach patients across the Twin Cities is a game changer in the treatment of cardiac arrest."