Police: Man stole ambulance, crashed into hospital
An EMS provider was in the back of the rig when the suspect got in, officials say
---
By Laura French
BRIDGEPORT, W.Va. — A West Virginia man allegedly stole an ambulance outside of an emergency room and crashed it into a hospital building moments later.
Anthony Grooms, 54, is accused of stealing and crashing the Harrison County Emergency Squad rig into the United Hospital Center, causing extensive damage to both the vehicle and building, according to WBOY.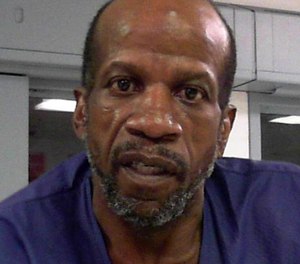 An EMS provider was reportedly in the back of the ambulance when the suspect got into the front seat, and when the provider got out to see who was there, the rig sped off, according to the Bridgeport Police Department.  
The crash occurred several feet from where the ambulance was taken. The EMS provider told police she was the only other person outside by the emergency room entrance at the time of the incident and that the ambulance and its equipment was worth more than $100,000.
Officials did not report any injuries in the crash.
Grooms' bail has been set at $50,000.