5 ways mobile healthcare coordination can change EMS
By connecting all care givers we can improve patient outcomes
---
By EMS1 BrandFocus Staff
The following is paid content sponsored by Pulsara
Medical professionals are always pushing to discover better methods to improve patient outcomes. Nowhere is this more true than in acute care situations, where communication is critical and every second counts.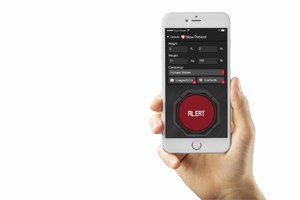 But up until now, there hasn't been a great one-size-fits-all solution to the problem of sharing information—benchmark times, patient information, etc.—between emergency response team members, due to great variation from place to place and organization to organization.
One company looked for a way to put a method to the madness. By pulling together people, alerts, and information in a single platform that's available to everyone, the days of "who knew what when" can be put firmly in the past.
Here's how Pulsara works, along with five reasons it is quickly becoming the leading technology for improving patient outcomes.
1. Everyone is looking at the same "universal" clock
Timing is everything when it comes to treating the acutely ill. In the near term, more precise timing correlates with better patient outcomes. In the long term, it correlates with better processes, better overall performance, and ultimately better outcomes for all patients.
Pulsara tracks time from first contact as well as door time—and shares that information across all devices. It's an innovative, patent-pending concept called the 'Universal Clock', and it's critical to ensuring all parties are delivering coordinated care. As soon as the medic sends out the alert, the time is recorded and shared. It's not guessed at later when reviewing notes, and it's instant, so it also isn't getting in the way of providing care.
2. You can share information with everyone…instantly
In addition to uniting everyone under a universal clock, team members can also share information, updates and key benchmarks with one another using the HIPAA-compliant platform's Team Messaging feature. Each team member will have access to the same information, and it's all secure. The multiple phone calls triggered by updating patient information or searching for a contact are over.
What that means is that when the patient arrives at the hospital, staff already knows the patient's pre-registration information, and the EMS team knows where they're taking the patient and whether the hospital is ready for them. Most importantly, the patient is going through these processes more quickly, leading to a definitive resolution much sooner than would normally be the case.
3. It's simple to use (and free for EMS)
By leveraging existing mobile technology, Pulsara is extremely accessible. Anyone that has used a mobile app or has sent a text message will have no problem using this interface. Pulsara is free for EMS as well, further lowering the cost of adoption.
Once information is added, it can be accessed by anyone on the network with the tap of a button. Looking up the agency's flow diagram or the patient's information is simple and quick. Uploading an ECG—which you can do from any monitor without any additional equipment—or checking whether the hospital is ready for the patient is done with a tap of a button..
4. Inter- and intra-organizational coordination becomes easier
Pulsara's solution also provides larger, organizational benefits. STEMI coordinators have access to accurate, uniform metrics and no longer need to synthesize data from multiple sources. This translates into time savings at the end of the month, as the data is already prepared. In addition, the administrator dashboard makes it easy to generate reports, look for trends and identify issues based on that data.
Because all benchmarks can be measured from the same universal clock, their measurement becomes more accurate. More accurate benchmarks result in improved patient outcomes and shorter time to definitive treatment.
5. EMS gets instant feedback on patient outcomes
Another benefit to using Pulsara is instant feedback for the whole team. Currently, EMS rarely gets any real follow-up on patient outcomes. They drop a patient off at the hospital and too often drop out of the equation. Sometimes they receive follow-up  information more informally weeks or months later, sometimes not at all.
The benefit of being connected via a network is everyone can see—in real time—how the patient is doing. Getting immediate feedback on treatment time and patient outcome isn't just helpful for improving performance, it's also an important aspect in forging bonds between people and agencies that need to work together.
The Pulsara platform offers a technical solution to a technical problem, improving patient care by connecting people and information, getting everyone on a universal clock, and making scheduling and reporting much easier.

Request information from Pulsara
Thank You!