One arrested in S.C. mall shooting that injured 14
Nine of the victims were hit by gunfire and five others were hurt as people fled to exits
---
Noah Feit
The State
COLUMBIA, S.C. — One person has been arrested following Saturday's shooting at Columbiana Centre, and at least two others could face charges, the Columbia Police Department said.
Jewayne M. Price, 22, was charged with unlawful carrying of a pistol, police said in an overnight news release. The man who was originally detained as a person of interest is being held at the Lexington County Detention Center and could face more charges as police consult the 11th Circuit Solicitor's Office, according to the release.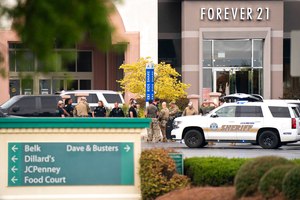 Police said they are trying to identify at least two additional suspects who were seen with guns in the shopping mall.
However, the other men who were questioned as persons of interest will not face any charges, police said. Those men were released from police custody after it was determined that they were not involved in the shooting, according to the release.
The first 911 call about the shooting came in at 2:03 p.m., Columbia Police Chief Skip Holbrook said, and the mall was quickly swarmed by hundreds of law enforcement officers from multiple agencies.
After speaking with witnesses and reviewing surveillance video, police investigators said they believe that at least three suspects displayed guns inside the mall. Police said they are trying to determine how many suspects fired weapons, which caused multiple people to be hurt.
Police found one gun-related to the incident, while a preliminary examination of ballistic evidence indicates that at least two different firearms were used by two shooters, according to the release.
Any witness or person who captured the incident on video is asked to immediately call police at 803-545-3525.
A motive for the shooting
A law enforcement source told The State that a motive for the shooting might be gang retaliation.
On Saturday, Holbrook said it was too early in the investigation to know if the shooting was gang-related. But he said authorities believe the shooting wasn't random, and that those involved knew each other. They likely had a previous dispute, police said.
State Sen. Dick Harpootlian, a Columbia Democrat and former prosecutor, said the state has a "problem with young people with guns who are not deterred by our current legal framework."
"We need to make it tougher on gang members, we need to make it tougher on young people who are illegally possessing and carrying guns," Harpootlian said.
Update on the victims
Fourteen people were injured during the incident but no one died, according to police. The victims range in age from 15 to 73 years old, police said.
Of those, nine were hit by gunfire and five others were hurt as people fled to exits, according to the release.
Injuries suffered by people who were attempting to leave the mall for safety include broken bones, lacerations, and a head injury, police said.
As of midnight, a 73-year-old woman is the only victim who continues to receive medical treatment at a local hospital, according to the release. All of the other victims have been treated and released, or were scheduled to be released, police said.
"We were relieved to hear that most of them have already been discharged," Columbia Councilwoman Aditi Bussells said. "Our thoughts and prayers go out to the all of the victims of this horrific event. We are grateful to our first responders."
Bussells and Columbia Mayor Daniel Rickenmann were among those who visited shooting victims in the hospital.
"Our community is saddened by this senseless shooting and the pain it caused to innocent bystanders," Rickenmann said in a statement. "Our focus is on getting them treatment right now and on being supportive of the multiple law enforcement agencies working together to bring these criminals to justice."
When will shopping resume?
Columbiana Centre is located in the popular Harbison shopping and entertainment district. Highway exits leading to the mall were blocked Saturday afternoon.
The mall was going to be closed Sunday for the Easter holiday, and is expected to reopen for business on Monday, said Lindsey Kahn, a spokeswoman for the mall.
In a statement for mall owner Brookfield Properties, Kahn said Saturday's "isolated, senseless act of violence is extremely upsetting and our thoughts are with everyone impacted. We are grateful for the quick response and continued support of our security team and our partners in law enforcement."
Along with Columbia police, other law enforcement agencies that responded included the Lexington, Richland and Newberry county sheriff's departments, Irmo Police, South Carolina Law Enforcement Division, S.C. Department of Probation, Parole and Pardon Services, S.C. Highway Patrol, FBI and Bureau of Alcohol, Tobacco, Firearms and Explosives.
Previous arrest
This is not the first time Price has been arrested.
In 2018, Price was one of several people who were taken into custody following the shooting death of a Lower Richland High School student.
A then 18-year-old Price was charged with accessory before the fact, according to the Richland County Sheriff's Department. Information about what happened to the charge, and if it is still pending, was not available.
Price was one of 22 people arrested following the death of Amon Rice, a 17-year-old basketball and football player at Lower Richland. Rice was shot near a Richland County church when rival teenagers and their older relatives met up to settle a dispute, the sheriff's department said.
Rice had stood up for a kid who was getting picked on at school, his mother said. What some thought would be a fistfight ended with bullet shells littering the ground. Two teenagers were shot, one with a non-life-threatening wound. Rice was taken to an area hospital where he died.
Also in 2018, Price was convicted in a bench trial for violating a Richland County ordinance, judicial records show. He was fined $232.50 after being found guilty on the prohibited entry or restricted turn charge, court records show.
This story was originally published April 17, 2022 6:53 AM.
___
(c)2022 The State (Columbia, S.C.)
McClatchy-Tribune News Service