NY ambulance service increases EMT pay as contract negotiations stall
Mohawk Ambulance Service announced they are implementing their final proposal as contract discussions have come to a standstill
---
By EMS1 Staff
SCHENECTADY, N.Y. — An ambulance service announced it will be increasing EMT pay amidst stalled contract negotiations.
A Mohawk Ambulance Service press release announced that the agency is implementing the terms of its final proposal and increasing starting hourly pay for EMTs from $12.51 to $14.75, according to the Times Union.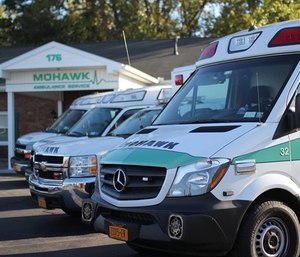 The hourly pay will also be increased by 3 percent annually during the terms of the agreement.
"After diligently negotiating with UPSEU Local 1222 without reaching an agreement, we have reached an impasse. However, we believe employees should receive the significant benefits we have offered in our final proposal," Mohawk Ambulance President James P. McPartlon III said in the press release. "We recognize that they deserve a raise, especially during the holiday season. This is a good-faith effort from our management team and we remain hopeful the union will reconsider and approve this final proposal."
The EMS providers of the agency have been without a contract since April, and EMTs expressed their frustrations in October about low pay and long hours.
Several EMTs said it's a common occurrence for providers to work 70 hours a week in an effort to make a "living wage," causing them to suffer from fatigue while on the job.
United Public Service Employees Union labor relations representative Daniel Schuttig said in October that a starting wage of $15 an hour is what the union wants.