SC EMS employee fired, faces riot charges in alleged connection with extremist group
Kevin Ackley, 22, was fired from Richland County Emergency Services after authorities said he incited rioting as part of a group known as the Boogaloos
---
Sammy Fretwell
The State (Columbia, S.C.)
RICHLAND COUNTY, S.C. — A Richland County emergency medical services worker, who authorities say is connected to an extremist group known as the Boogaloos, has been arrested and fired in the aftermath of last weekend's protest-related chaos in Columbia, authorities said Friday afternoon.
Kevin Ackley, 22, faces charges of inciting a riot and aggravated breach of peace after being arrested Friday in Lexington County for his actions during the mayhem.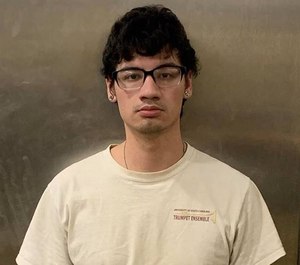 "It's disgusting that a man who is supposed to be protecting the lives of citizens and law enforcement officers alike would participate in a riot that injured people," Sheriff Leon Lott said in a prepared statement. "He is now where he needs to be — in jail. And he'll be held accountable for what he's done."
The Sheriff's Department did not explain how it thinks Ackley might be connected to the Boogaloos, a group of agitators known for wearing Hawaiian shirts and inciting trouble at public protests.
But the agency's afternoon news release was headlined "second Boogaloo arrested.'' The department also released photos of a flowered, Hawaiian shirt and a ball cap with the words "Boojahideens for Liberty'' across the front. The agency confiscated that material, as well as gloves and a mask, from Ackley, a spokeswoman said.
The department said Ackley helped incite a riot by throwing a water bottle at law enforcement officers during last weekend's uproar. The Richland County Emergency Services department fired Ackley after his arrest, the Sheriff's Department said.
Last weekend's mayhem followed a peaceful protest at the state capitol. The protest was among many across the country to draw awareness to police brutality in the aftermath of an incident involving George Floyd, a black man who died in police custody in Minnesota after an officer knelt on his neck for nearly nine minutes.
As the protest broke up, a crowd moved toward the Columbia Police Department and the Congaree Vista entertainment district. Once there, the crowd became unruly, burning police cars, smashing windows and throwing rocks and water bottles. On several occasions, large groups of people were running through the streets in the Vista.
The rally's organizer, Lawrence Nathaniel, told The State this week that he saw about 10 men wearing Hawaiian shirts. The men were stirring up trouble and inciting emotions in people, Nathaniel said. Lott said Thursday those men are believed to be part of the Boogaloos. It was not known what drew them to the Columbia protest.
The Boogaloo organization has caused problems across the country, authorities say. It is a national anti-government movement that targets liberal politicians and law enforcement, NBC News has reported. The Washington Post reported that its members are considered "far-right extremists," bent on spreading a violent, anti-government agenda. The "Boogaloo Bois" have been at dozens of protests across the U.S., the Post reported.
Ackley's arrest Friday follows the arrest earlier this week of Joshua Barnard, a 24-year-old Columbia man who Lott said was also linked to the Boogaloos. Photos from last weekend's rally at the state capitol show Barnard and another man wearing Hawaiian shirts.
The Sheriff's Department released photos Friday showing guns and ammunition clips confiscated when Barnard was arrested. The department's photo shows two rifles and two pistols on the Hawaiian shirt the department said he was wearing Saturday during the events in Columbia.
Barnard is an ex-Marine originally from Florida. His Facebook page shows a picture of George Floyd. It also displays pictures and videos critical of police agencies.
Jail records show Barnard was still in custody Friday, as was Ackley.
———
©2020 The State (Columbia, S.C.)
McClatchy-Tribune News Service