Ariz. city, firefighters wrangle over fire, EMS response times
Mesa's city manager and the firefighter's union have competing ideas of the best way to improve service to slow spots
---
Scott Shumaker
East Valley Tribune
MESA, Ariz. — A March 2022 analysis of fire and medical response times by the city of Mesa and the Mesa Fire & Medical Department identified small "gaps" across the city, areas where a large percentage of response times exceeded the gold standard of four minutes.
The study found those response time gaps didn't correlate directly with distances from a fire station — traffic patterns and subdivision layouts slowed responders in subtle ways, which was only apparent by analyzing the data.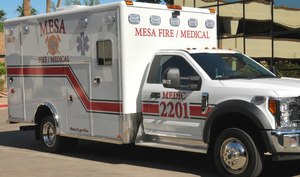 The question of how to fill these gaps has touched off discussions between the city manager and the firefighter's union, which have competing visions of the best way to plug the slow spots.
On the one hand, the city manager has been interested in experimenting with novel, cost-saving solutions, such as adding shifts of two-person civilian medical-only teams. Firefighters want to address the gaps using more tried-and-true means: fire stations, ideally, but short of that, four-person teams of sworn firefighters in more fully equipped trucks.
The Mesa firefighters' union has been lobbying against the city manager's choices of solutions, and it has won some concessions. But the city administration is pressing on with plans for a pilot program using two-person medical teams.
One battle that rank-and-file firefighters have won is to have those two-person teams filled by sworn firefighters rather than lower-paid civilians, as proposed earlier this year.
In explaining the pilot to City Council, City Manager Chris Brady has said he owes it to the city to explore all options for improving emergency service, noting that the discussion has "a lot of people getting very excited."
"Even if it's just a pilot program, it never hurts to experiment and try something," Brady said.
Mesa's emergency response time analysis overlaid a map of Mesa with travel time data. Red indicated a higher frequency of calls in which the first unit on the scene arrived later than 4 minutes, a national benchmark for emergency response.
In some of the reddest areas, fire stations have recently opened or the city is planning a new fire station, pending successful bond votes — a multi-year process.
The third type of hotspot is red areas near existing stations.
To close these gaps, Assistant City Manager John Pombier wants to experiment with stationing two-person medical units at strategic places between fire stations during the busiest times of day.
He said it's not feasible to add a large number of new stations, at $15 million apiece, to fill all the gaps, so "we've got to find creative, innovative and safe ways" to enhance service.
He emphasized that these two-units would be in addition to existing service, and would not take the place of all-hazard crews.
Pombier said the pilot program would consist of medical teams because 92% of fire department calls are for medical service, a percentage that is expected to grow in the future.
With two EMTs, the teams would be focused on "low acuity" medical calls, or calls involving "non-urgent medical conditions and symptoms," according to the Annals of Emergency Dispatch and Response.
Examples include muscle strains or bronchitis — conditions that are not life-threatening.
Mesa Fire and Medical Chief Mary Cameli expressed support for the pilot program currently on the table.
"The innovative part of this new approach is that it addresses these areas with sworn units that respond exclusively to medical calls," Cameli wrote in a statement. "I am humbled by my employees' dedication and commitment. I am excited to work with the City on this additional resource to benefit our citizens."
While the city manager, fire chief and firefighters' union want to address the gaps issue, hammering out what a pilot program should look like has involved a vigorous back and forth in recent weeks.
Captain Scott Figgins, the president of the Mesa chapter of the International Association of Fire Fighters, opposed the early proposal to use civilian medical teams. Gaining that point, he is now lobbying for four-person medical teams, instead of two, equipped with bottle packs and turnouts, in addition to medical supplies.
"Based on our data, our labor group believes a four-person model addresses the safety and well-being of our members and the community," Figgins said.
Figgins believes that four-person teams would, counterintuitively, end up being more economical for the department than two-person teams because, he said, other cities that have tried two-person teams end up sending multiple two-person teams to a large share of calls.
He also argued that four-person medical teams are far more capable than two-person teams.
"If you went into cardiac arrest, you would not want two people" working on you, Figgins said. "To work a cardiac arrest requires four people."
But in theory, Mesa would only send the two-person crews to minor medical calls.
Pombier said sending the new teams to the appropriate calls would be critical to the program, and he said a big part of starting up the pilot would be working with the Communications Center on a system to identify call types that fit the two-person teams.
In response to Figgins' observation that two-person teams are less capable than four-person, Pombier said speed is of the essence in a lot of calls.
"I've got areas that need assistance as quick as we could possibly get it there," he said. "It is a balance between the type of crew that can get there and the time that they can get there."
City Council members have offered tentative support for the city moving forward with the pilot program, which could launch in the fall, but several have expressed reservations about making the medical teams too lean.
Vice Mayor Jenn Duff sought assurance that the pilot program would not impact the quality of any calls, suggesting that any pilot program should lean heavily on data rather than real-world settings.
"I don't want to see even one incident that we didn't provide the absolute best care to save their life," Duff said.
In response, Brady said any pilot program "will be supplemental" to existing service.
Councilman Mark Freeman, a former Mesa firefighter, also cautioned Brady about trying to reinvent the wheel.
"The wheel isn't broken. We're adding a spoke in the wheel," Freeman said.
___
(c)2022 East Valley Tribune (Mesa, Ariz.)
McClatchy-Tribune News Service