Hiring and retaining the best and the brightest
What we can learn about retention from EMS rising stars
---
The EMS Trend survey has identified recruitment and retention as top issues impacting the field for years, though staffing challenges have only been exacerbated by the pandemic.
We learned recently that turnover rates for paramedics and EMTS increased in 2022 to 20-36%. On average, EMS agencies experience a full staff turnover every 3-4 years and more than one-third of all new hires turnover within their first year of employment.
But on the other side of the equation are the rising stars of EMS – the students, recruits and EMTs who find a passion for prehospital medicine, advance their education and climb the ranks, improving their patient care and their organizations as they climb the ladder.
To better understand what inspires greatness and career longevity in EMS, I interviewed several rising leaders about their career path, their joy in work and their secrets to success. At the end of this article, download insights from these leaders on retention, career advancement and what makes EMS great.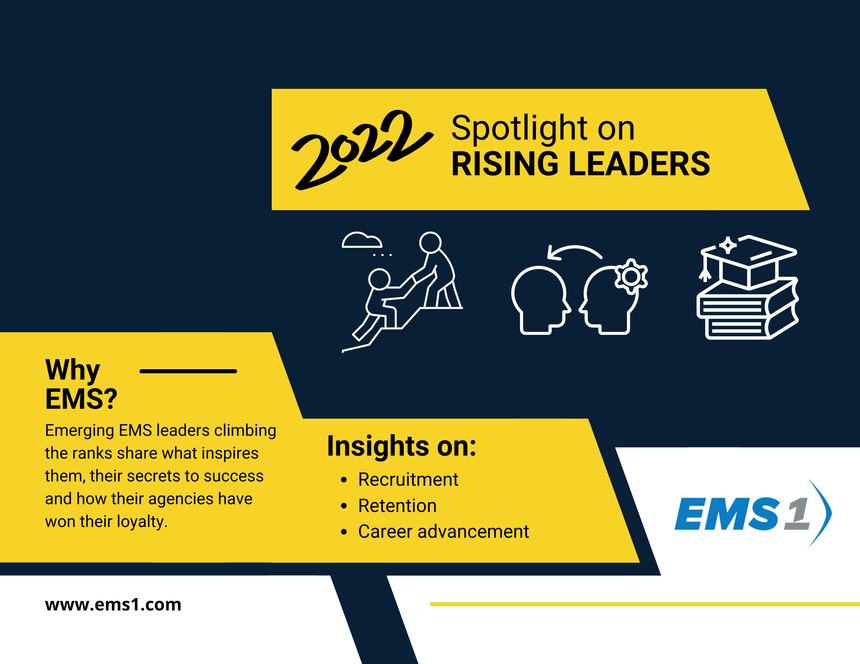 Common threads
I found many common threads in my conversations with these leaders.
Many – in fact, most – began with an interest in the fire service, but fell in love with prehospital medicine (though many noted EMS is not quite what they expected). Though our panel has found EMS to differ from the television-depicted, back-to-back, time-sensitive, life-or-death ALS calls, the common themes in what has made EMS a satisfying career are excellent recruitment tools. Here's what our leaders love about EMS:
The constantly changing, evolving environment of prehospital care
The mentally challenging nature of the work
The opportunity to bring a little order to a chaotic world
The level of autonomy and personal responsibility EMS provides
These are the characteristics that should be driving your recruitment campaigns.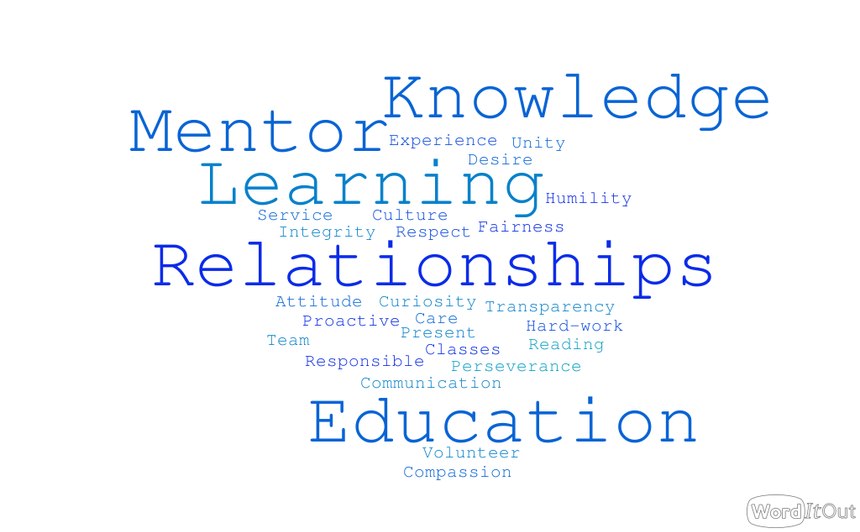 I also asked these rising stars what their agencies have done to retain them. Here, the common threads wove three distinct themes when it comes to retaining top talent:
Don't give them a reason to leave. Many of these leaders started with their organization at the very outset of their career, as an EMT or even while still in school. What's kept them loyal? Opportunities for growth, a culture that makes coming to work each day something to look forward to, and a competitive compensation and benefits package.
Fund training and education. Almost every leader I interviewed raved about the opportunities for continuing education their organization provides. Internal CE, specialized courses, industry conferences, tuition reimbursement – if you want to grow your own EMS superstars, you need to give them the opportunity, the time and the funding to seek the training that will further their development.
Provide opportunities to make a difference. All EMS providers in some way join the emergency services with a hope of making a difference for their patients. It stands to reason that the best of the best will seek to make a difference in bigger ways as well – for their agency and for their colleagues. One of the things that stood out the most for me when speaking to these leaders is how they appreciate how their agencies foster their desire to get involved in programs, initiatives and decisions that shape how EMS is delivered in their communities.
Learn more about these standout organizations and leaders by downloading your copy of EMS1 Rising Leaders 2022.
---

Read more:
Pay paramedics a thriving wage to end the retention crisis
Paramedics: don't settle for a living wage. Instead, be audacious and demand a thriving wage for your lifesaving career of community service
---
About the panel
Dustin Axtell, battalion chief of operations at Thompson Valley EMS, a health services district providing prehospital care to a 450-mile area of northern Colorado. He holds a master's degree in Public Safety, Leadership and Administration from Arizona State University. He is a graduate of the Priority Ambulance Leadership Foundation's EMS leader program. He is continuing to pursue his professional interests in building highly successful people and teams to contribute to the growth of EMS on a wide scale. He can be contacted at daxtell@tvems.org.
Sarah Cuccia, captain of professional development and a licensed paramedic with Montgomery County Hospital District in Conroe, Texas. She has been in prehospital emergency medicine for 13 years, 11 of those years with MCHD. Cuccia's role in the organization is recruiting, onboarding new employees and providing internal employees with a pathway for promotion. Over the last decade, Cuccia has continuously volunteered her time and experience in many different roles within the organization. Her willingness to openly communicate makes her a valuable asset to her peers, the organization, and the residents of Montgomery County.
Christopher Cullen, director of operations, Greater Baldwinsville Ambulance Corps, Inc., Baldwinsville, New York. He started in the volunteer fire service in 2004. In 2006, he became an EMT and shortly after, began working full time in EMS. In 2009, he became a paramedic. In 2013, he came to work for the Greater Baldwinsville Ambulance Corps, and in 2014, was promoted to operations supervisor, in charge of supply ordering and inventory. In 2021, he was promoted to director of operations.
Xavier De La Rosa, MBA, BS, LP, NRP, chief clinical officer, Harris County ESD 11 Mobile Healthcare. He has held multiple roles including for-profit EMS, 911 EMS, flight medicine and EMS-based fire service, and as a lieutenant in the Training Division of Fort Bend County EMS in Texas. He has a degree in Emergency Health Sciences from the University of Texas Health Science Center San Antonio and a Master's of Business Administration from Johns Hopkins with concentrations in Private and Public Sector Leadership; and Health Innovation, Technology and Management.
Ashley Fillmore, NRP, district chief, Montgomery County Hospital District, Conroe, Texas, has been in fire and EMS for 12 years and a paramedic at MCHD for 7 years. She currently holds a district chief position with MCHD, where she has the pleasure of serving not only the community, but the employees as well.
Brice Jacobson, EMS coordinator, lieutenant, Cheyenne (Wyoming) Fire and Rescue. He has been in EMS since 1998, received his paramedic certification in 2003, and started with CFR in 2004 as a firefighter paramedic. He worked and promoted through the ranks within the suppression division before moving to the lieutenant of EMS coordinator in 2014. He oversees all of the EMS administrative functions, logistics and education for CFR. He is also a department liaison for Cheyenne Regional Medical Center and American Medical Response.
Tamara Jones, NRP, senior medic and clinical preceptor in a busy EMS system in central Texas. She has been involved in emergency services for over 13 years, with both EMS and fire, as well as spending her off days at a local emergency room. In addition to years of experience, she has extensive training in leadership, and command structure/incident control, and holds multiple certifications for both EMS and fire.
George Lombardo, field supervisor, lead field training officer, and paramedic with Superior Mobile Health. He began his career at the young age of 19 as an EMT-basic. He has over 15 years in the pre-hospital industry. Lombardo has held multiple positions as a lead medic on MICU capable ambulances and clinical settings. He came to Superior Mobile Health as a strong clinical provider and leader, which was quickly recognized by management. He was first promoted to FTO, then to field supervisor.
James H. McConnell, BS, NRP, deputy chief, Gaston Emergency Medical Services, Gastonia, North Carolina. He began EMS journey as an Explorer at the age of 15 while volunteering at a local rescue squad as a junior member. While in high school, he dual enrolled at a local community college and took an EMT class in the evenings. Once he completed high school, he went straight into the associate degree paramedic program and completed his training, gaining his paramedic certification. His experience as an Explorer led him to transition to full-time employment with Gaston County EMS. The first 7 years of his career were spent as a field paramedic. He has since been promoted through various positions, lieutenant, captain, major and currently serves as the deputy chief of that same agency he started with at age 15.    
John McGrath, paramedic field supervisor, Valley Medical Transport, Winchester, Virginia. He has been with Valley Medical Transport for 13 years. He began as a BLS per diem and then went full-time, becoming a paramedic 2 years later. He is now a paramedic field supervisor.
Oscar Monterrosa, MS-3, FP-C, EMT-P. He is a third-year medical student at the Kirk Kerkorian School of Medicine in Las Vegas, and currently works as a critical care transport paramedic for a local agency and as a volunteer firefighter for Clark County Fire Department. He has a combined 15 years' experience as a U.S Army combat medic, EMT/paramedic, CCT paramedic and educator in the Las Vegas area.
Ethan Thompson, captain/paramedic, Sullivan County EMS, Blountville, Tennessee. He started in EMS at age 19 and went to EMT school at Northeast State in Kingsport, Tennessee. He then went to paramedic school at Walters State Morristown, Tennessee, in 2011. Thompson started in leadership in 2016 when he promoted to lieutenant. In 2021, he promoted to captain. He has been a part of two strike team deployments to Hurricane Irma and Hurricane Michael in Florida.
Jeremy Tidwell, District Chief of EMS Training, ESD #9 (Cy-Fair Fire Department). He has been in EMS for almost 23 years. He started as a volunteer firefighter and quickly fell in love with the EMS side. He worked for many years for a county service before moving to Fort Worth and joining Medstar Mobile Healthcare. He joined Cy-Fair FD as a training captain before being promoted to District Chief of EMS Training. Tidwell graduated Magma Cum Laude from Lone Star College with an associate's degree in fire science technology. Tidwell is attending Texas A&M – San Antonio to complete his bachelor's degree in fire and emergency services administration.
Jeff Tobin, lieutenant, medical & privacy officer – infection control, Clayton Fire Department. He has been in the fire and EMS service for the past 18 years. He functions as the medical officer for the Clayton, Missouri Fire Department. He graduated with a Bachelor's degree in Crisis and Disaster Management from the University of Central Missouri and is working to complete a Master's in Public Service and Safety Leadership from Drury University.
Jake Waller, operations coordinator, University of Missouri Health Care's ambulance service. He also serves as a Missouri EMS Association board member and regional Deputy EMS Mutual Aid coordinator.
Miranda White, QA manager, Mobile Medical Response, Inc., Saginaw, Michigan. White's love for EMS started in EMT school at Mobile Medical Response. She received her EMT license and decided to go right into MMR's paramedic program. She was given the opportunity to work on advancing the new employee onboarding program and was promoted to road supervisor. Being promoted to QA manager expanded her ability to launch a new FTO program for all 17 counties and improve the quality of patient care.
Fill out the form below to download your copy of EMS1 Rising Leaders 2022 and get more insights from these dedicated professionals.