Fla. agency has $1.2M plan to recruit, retain FFs, EMS providers
Polk County Fire Rescue will hire a full-time recruiter and offer $8,000 signing bonuses plus paid paramedic training
---
By Leila Merrill
POLK COUNTY, Fla. — Polk County Fire Rescue has a new plan to recruit and retain EMS providers and firefighters, WFLA reported.
Chief Robert Weech said that the agency has about 60 vacancies, which result in mandatory overtime for staffers.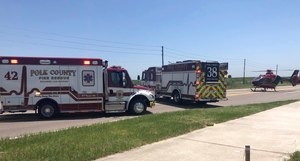 He estimates that the new plan will cost $1.2 million. It includes hiring a full-time recruiter, an $8,000 bonus for new hires who sign a 4-year contract, and paying new hires to go through paramedic training.
"The hiring pool right now, especially for paramedics, is quite thin. There's a lot of agencies in this area experiencing the same things we are," said Weech.
Polk County Professional Firefighters Local 3531's president is hopeful about the Polk County Fire Rescue plan.
"We've had some challenges and I think that what they're proposing will hopefully get some more firefighters come to us and keep the ones we have," said Lee Stringer, the union leader. He added that there is more work ahead, saying that the starting wage is competitive but raises could be better.