American Red Cross declares severe blood shortage, asks for donors to step up
Calling the blood shortage the worst in over a decade, organization officials said donations are down 10% since the start of the pandemic
---
By Leila Merrill
WASHINGTON — The American Red Cross has declared a national blood crisis amid the current COVID-19 wave of infections and hospitalizations and organization leaders are asking Americans to donate blood.
Calling the blood shortage the worst in over a decade, the Red Cross stated in a news release Tuesday that the number of people giving blood has dropped by 10% since the pandemic began.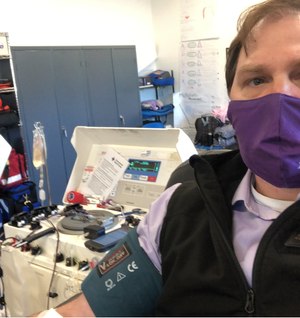 Speaking with EMS1, Kevin Collopy, clinical outcomes and compliance manager for Novant Health AirLink and VitaLink, said EMS providers should try to set a good example by donating. 
"Paramedics and EMTs are community role models! Get permission and go and donate in your uniform!" he said. "Show the world how proud we all are to help provide life-saving resources to patients in need!"
Due to the shortage, the nonprofit has recently been forced to limit blood distributions to hospitals in recent weeks; the Red Cross supplies 40% of the nation's donor blood.
"While some types of medical care can wait, others can't," said Dr. Pampee Young, chief medical officer of the Red Cross. "Hospitals are still seeing accident victims, cancer patients, those with blood disorders like sickle cell disease, and individuals who are seriously ill who all need blood transfusions to live even as Omicron cases surge across the country. We're doing everything we can to increase blood donations to ensure every patient can receive medical treatments without delay, but we cannot do it without more donors." 
In light of the shortage, Collopy sees a chance for EMS providers to have a real impact.
"Once you have seen the impact blood transfusion has on a patient you understand why we never want to risk a patient not receiving life-saving blood because of a supply issue. Imagine the impact if even half of this country's prehospital care professionals donated!" he said.
All types of blood are currently needed — especially Type O-positive and Type O-negative — and platelet donations are needed, too, to help prevent further delays in vital medical treatments.
Donations can be scheduled at RedCrossBlood.org, by calling 1-800-RED CROSS (1-800-733-2767) or via the Red Cross Blood Donor App.
January is also National blood Donor Month, and the Red Cross and the NFL are partnering in an effort to urge individuals to make a blood or platelet donation. Donors who give blood, platelets or plasma during the month will automatically be entered for a chance to win a trip to Super Bowl LVI in Los Angeles. Those who come to donate will also be automatically entered to win a home theater package and a $500 e-gift card. Learn more at RedCrossBlood.org/SuperBowl.
In addition to blood donors, the organization also needs blood drive volunteers. To volunteer to support Red Cross blood collections, visit redcross.org/volunteertoday.