Keith Griffiths, Kelly Cope honored at Pinnacle
Two EMS standouts were recognized with the Pinnacle Lifetime Achievement and Emerging EMS Leader awards
---
By Kerri Hatt
PHOENIX — Two EMS leaders were honored at the 2021 Pinnacle EMS Leadership Forum in Phoenix this week.
Keith Griffiths, founding editor of JEMS and a longtime advocate for EMS and public safety, was honored with the Pinnacle Lifetime Achievement Award. The award recognizes individuals who have made significant contributions to EMS over the course of their careers.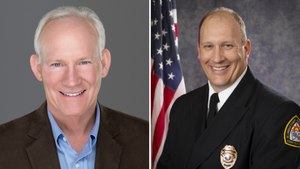 "Keith's passion for advancing our profession, combined with his storytelling prowess, has inspired thousands of EMS clinicians and leaders and helped millions of people whose lives have been touched by EMS over the last four decades," said Jay Fitch, PhD, founding partner of Fitch & Associates and co-chair of the Pinnacle Program Committee. "Although he often acted behind the scenes, Keith's legacy can be seen across EMS and around the world."
After studying at the U.S. Naval Academy and San Diego State University, Griffiths landed at "Emergency" magazine. As managing editor, he began to learn the industry and meet its leaders, including James O. Page, who had helped start one of the nation's first paramedic programs in Los Angeles County. In 1980, Griffiths and Page launched JEMS, the Journal of EMS.
"Keith's love for EMS has fooled many people into thinking that he began his career as an EMT or paramedic, because he has done as much to support EMS as anyone who ever wore a patch on their sleeve," Fitch said.
After leaving JEMS, Keith co-founded RedFlash Group, a strategic communications consulting firm specializing in public safety celebrating its twentieth anniversary this summer. During his time at RedFlash, Griffiths has continued to help shape the future of EMS, through his work with businesses, government agencies, and non-profit organizations serving the industry. In partnership with Fitch & Associates, Griffiths and RedFlash also helped launch the first Pinnacle in 2006 and has been an integral part of the conference ever since.
Griffiths has also volunteered his time as a board member or advisor to many organizations throughout his career, most recently including the California Paramedic Foundation and the Citizen CPR Foundation. Along with his wife, Heidi, and their daughter, Zoe, Griffiths is a supporter of the Rancho Coastal Humane Society and a frequent foster parent to puppies in need of a home.
Additionally, Kelly Cope, a recent Ambulance Service Manager graduate from Fitch & Associates, was recognized with the Pinnacle Emerging EMS Leader Award, which honors rising executives in EMS who demonstrate excellence in the profession. Cope is CEO of Saint Charles County Ambulance District (SCCAD) in Missouri.
"I'm very proud to know Kelly and have had the privilege of teaching Pinnacle Power Seminars with him over the past few years, including one just this week," said Anthony Minge, Fitch & Associates senior partner and Pinnacle co-chair. "Kelly is a well-read individual, and he enjoys sharing the wealth of leadership knowledge he has absorbed and retained over the years."
Cope began his career after taking an EMT course on a whim during college. He fell in love with EMS, and shortly thereafter began his paramedic training while working as an EMT in a rural Missouri community. Cope completed his paramedic training while working at a hospital-based program in urban Saint Louis and continued working in the high-volume, fast-paced urban environment for several years before moving to SCCAD.
There, he served as a front-line paramedic and started taking on additional responsibility with special projects, including the implementation of electronic charting.
He was elected executive steward of the union before transitioning to management and serving as the battalion chief overseeing non-emergency transport, where he relished the role of training and mentoring younger personnel. He was later promoted to assistant chief of operations, where he oversaw planning and construction of a new $32 million, 140,000 square foot operations and training facility, which opened shortly after he was promoted to chief executive officer earlier this year.
He is passionate about his own leadership development, and in developing leaders around him. He recently launched an endeavor at SCCAD to create a multi-part series of education for its leadership team designed to give a more well-rounded perspective of their operations and of the EMS industry.
Cope is a 2019 graduate of the Ambulance Service Manager program and a graduate of the Priority Ambulance Foundation's EMS Leadership of Tomorrow program. He has also been recognized as the Missouri EMS Association's Paramedic of the Year.