Hit-and-run victim reunites with responding paramedics
Matt Reich was returning home after volunteering at a homeless shelter when a car hit and ran him over, leaving him with 46 broken bones and collapsed lungs
---
By Rachel Engel
MANATEE COUNTY, Fla. — A man who was struck by a car was reunited with the paramedics who attended to him following the accident. 
Matt Reich, known as "Matt Miracle Guy" in his family, was riding his bicycle home after volunteering at a homeless shelter in February when he was hit by a car and run over, leaving him with 46 broken bones, collapsed lungs and other injuries.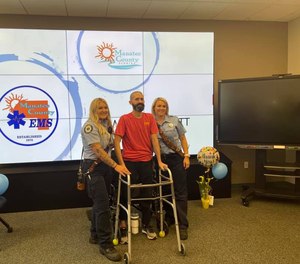 On Tuesday, Reich was able to thank Manatee County Paramedics Lydia Wilkinson and Karleigh Alday in person. 
"You guys made it all possible and I can't thank you enough and my family can't thank you enough," he said during the reunion. "I am lucky to be here and lucky to have these two just be there when I needed them most."
It was a special day for the medics, as well. 
"We don't always get to see the outcome or hear the outcome," Alday said. "To actually see him here today, that he actually came out today is, it is amazing. You are a miracle."
Reich credits Alday and Wilkinson for his ability to keep progressing forward in his recovery as he relearns how to walk. 
"I will never be able to repay it, but I will start with a thank you," Reich told the paramedics.