Man charged in fatal crash that killed off-duty Mich. EMT
Matthew Madigan was assisting a driver on the shoulder of the road when police say another driver lost control of his vehicle and struck the pair
---
By Kara Berg
The Detroit News
DETROIT — A Michigan man has been charged with driving drunk and causing a fatal crash that left an off-duty EMT and a 36-year-old woman dead.
Matthew Madigan, 39, was fatally struck by a vehicle at about 2:15 a.m. April 2 on Interstate 75 near Caniff Street in Hamtramck after he pulled over to help a driver who had been involved in a separate crash, according to police.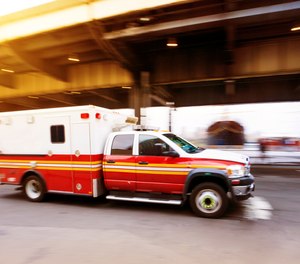 Madigan and the other driver, a 36-year-old woman from Oak Park, were on the shoulder when police say Juan Cruz-Ruvalcaba lost control of his vehicle and struck the pair. Prosecutors would not release the woman's name and Michigan State Police did not respond for comment.
Cruz-Ruvalcaba is charged with operating under the influence of alcohol causing death to emergency personnel and operating under the influence causing death. His attorney, Ronald Marsh, did not respond for comment Monday.
Madigan, of Wixom, was an EMT with Superior Ambulance of Michigan. The company said he embodied the company's values of compassion, dedication, and excellence.
"We will forever be grateful for his commitment to serving others and his sacrifice will not be forgotten," Superior said in a statement on the company's Facebook page.
Cruz-Ruvalcaba is charged in the 31st District Court in Hamtramck. He has a probable cause conference set for May 11.
___
(c)2023 The Detroit News
Visit The Detroit News at www.detnews.com
Distributed by Tribune Content Agency, LLC.
McClatchy-Tribune News Service