Shooter who killed 2 at Calif. high school dies
The 16-year-old boy shot himself in the head after killing two classmates and wounding three others, and had been in critical condition since the shooting
---
Even though Santa Clarita is the third-largest city in LA county, it is still a very close-knit community. First responders were not only responding to students, during this incident. In some cases, they were responding to immediate family. Learn more about the elements that complicated the operational response in this analysis by EMS1 columnist Rob Lawrence.
Associated Press
SANTA CLARITA, Calif. — A 16-year-old boy who shot five fellow students — killing two — before turning the gun on himself at a Southern California high school has died.
The Los Angeles County Sheriff's Department says Nathaniel Tennosuke Berhow died at about 3:30 p.m. Friday at a hospital with his mother present.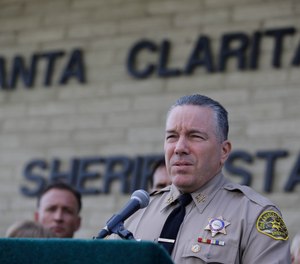 Authorities say Berhow pulled a gun from his backpack Thursday at Saugus High School in the Los Angeles suburb of Santa Clarita, shot five students at random and then shot himself in the head. It was his 16th birthday.
The shooting, captured on security video, took 16 seconds and investigators say they still don't have a motive.
The attack killed 15-year-old Gracie Muehlberger and 14-year-old Dominic Blackwell. Two girls remain hospitalized but are expected to be released this weekend.