Guatemala mudslide kills 131; 300 missing
The mudslide covered 125 homes with about 4 acres of mud and dirt as deep as 15 yards
---
By Katherine Corcoran and Sonia Perez D.
Associated Press
SANTA CATARINA PINULA, Guatemala — Ismael Estrada buried a son and a granddaughter swept away in a mudslide that killed at least 131 people and left as many as 300 missing.
More than 200 people followed the funeral procession for his son, Amilcar, 38, and granddaughter, Maria Jose, 10, whose casket was draped in white with ribbons of white crepe paper. Family members sobbed as city workers in hard hats and orange shirts used scaffolding to hoist her casket to one of the higher crypts that were opened up rapidly to make room for the scores of dead from the mudslide on the outskirts of Guatemala City.  "Goodbye my beautiful!" one woman cried from the crowd.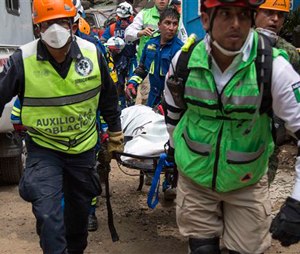 But for the 59-year-old carpenter-painter, the funeral Sunday morning was only the beginning. As soon as it ended, he headed back to the morgue to keep searching. He was still missing 19 family members, including all 14 of his grandchildren, ages 1 to 15.
"It's hard. I can't believe it," said Estrada, who maintained the calm demeanor of a man in shock.
He had given up hope of finding any of them alive.
"A lot of time has passed ... They're working with heavy equipment from above and there's a lot of dirt," Estrada said. "I just want to find them so I can bury them."
Rescue efforts resumed early Monday, but the overnight rain made the digging more precarious, said fire department spokesman Julio Sanchez. He said the number of rescuers has been reduced and crews are using heavy machinery to move the mud.
Estrada did not live in the Cambray neighborhood, where the hillside collapsed Thursday night and covered some 125 homes with about 4 acres (1.7 hectares) of mud and dirt as deep as 15 yards (meters). But he went there to see his children and grandchildren almost every weekend.
"When I went to visit, all my grandkids would come looking for me," he said. "I'd spend time with some, and then with others. They were my happiness, and it's giving me terrible pain."
Hope faded for many families Sunday that they would find survivors, as the smell of rotting bodies spread across the enormous mound of earth, and rescuers reported the buried dwellings they reached were filled with water, suggesting anyone trapped inside would have drowned.
Rescuers decided to keep individual emergency workers, relatives and reporters off the mound of dirt. Instead of digging by hand and listening for survivors, crews planned to use mostly backhoes and bulldozers to speed up the search for bodies. By days end, they were emerging in pieces, and the prosecutor in at the scene of the slide, Edwin Garcia, said he was telling all rescuers to be more careful.  But Sanchez said it's no longer possible to get to the victims without heavy machinery.
"There are conflicting factors," he said. "We have to reach the houses, and because of volume of dirt ... there's no way to do it by hand."
In the cemetery, city workers rapidly prepared crypts in a large mausoleum wall for the dead for the daylong procession of coffins and people. By late in the day, 36 new crypts had been bricked shut, with names etched in the new cement covering the masonry.
In the makeshift morgue, where Red Cross volunteers and rescuers worked at folding tables under tents, at least 100 people waited in line to find their loved ones. Estrada said they would view photos of the bodies, and if they recognized someone, they would be led inside to view the remains.
After the funeral, Estrada's son, Alfonso, father of Maria Jose, found his wife, Aura Aguilar. But he received only her head and a piece of her leg. He decided to bury her immediately, without a vigil or service, and returned with her coffin to the cemetery. He was still missing three sons late Sunday, and left without speaking.
Estrada stayed behind at the morgue in line, waiting for more information about the bodies constantly being brought in and unloaded from the white trucks by rescue workers and men in blue paper suits. The air had a smell like rotting food.
Already the identification process was changing. After three days in mud and water, bodies were nearly unrecognizable. Morgue workers explained that they were moving away from physical identification and relying solely on fingerprints. As the recovered bodies continued to be more decomposed, they would use DNA, said municipal medical examiner Dr. Carlos Augusto Rodas Gonzalez.
"With whatever measure we have, any human remain that we receive, we will make every effort to give it a first and last name," he said.
Estrada waited the afternoon in a folding chair without news.
"This requires patience," he said