EMS World Expo Quick Take: Active assailant preparation, response for EMS
20-60-90 minute rule underscores the importance of rapidly accessing trauma patients and transporting patients to definitive surgical care
---

NASHVILLE — Firearms are just one of the methods a determined assailant can use to rapidly cause mass murder and injury. Mike Clumpner, Phd, MBA, NRP, described the evolving methods used by assailants to cause mass death and injury.
Clumpner, a fire battalion chief with the Charlotte (N.C.) Fire Department, raced through a series of research studies, incident lessons learned and response guidelines on active shooter/hostile events in a presentation at the World Trauma Symposium. Clumpner served as an appointed subject matter expert on the NFPA 3000 Active Shooter Incident Technical Committee and drew on his experience as a firefighter, tactical paramedic, law enforcement officer and SWAT team operator to discuss mass casualty events.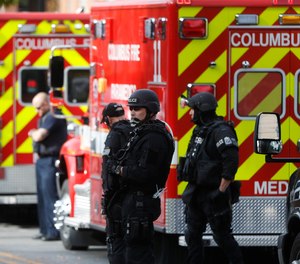 Memorable quotes on active shooter/hostile events
Here are five memorable quotes from Clumpner on active shooter/hostile event history, response and treatments.
On average, "death or serious injury occurs every 15 seconds after the event starts."
"Wound pattern in a vehicle as a weapon attack is significantly different than motor vehicle versus pedestrian collisions."
Active shooter incidents in EMS have "averages of four – four dead and four injured." But there is significant range in the number of patients who need EMS transport.
"If someone suffers a major yet survivable ballistic injury, their odds of death increase two to four percent every minute until they get to a hospital surgical suite or receive massive blood transfusion."
"Before you even start triage, send initial EMS crews through patients as a 'mass hemorrhage runner' to find the patients who might be bleeding out. [Triage doesn't begin] until the runner confirms there is no one bleeding to death."
"No patient should die on scene awaiting an ambulance."
Key takeaways on active shooter/hostile events
I have attended dozens of active shooter incident conference presentations, workshops, meetings, simulations and exercises from coast-to-coast. Clumpner proved that I can always learn more about active shooter incident preparation and response. 
1. Revise "Active Shooter" plan to "Active Assailant" plan
There are many methods for an assailant to actively attack a group of people. Clumpner recommended every department revise its "Active Shooter" plan to an "Active Assailant" plan. There are at least six methods used by assailants to cause death, injury and mayhem. Those methods are:
Active shooter
Mass stabber
Chemical weapons
Fire as a weapon
Vehicle as a weapon
Explosives
All of these methods have already been used by assailants in the United States.
2. You're on your own for medical response
Because active shooter incidents unfold so quickly – on average, a person is killed or injured every 15 seconds after the attack begins – the critical patients are either treated and transported by the initial responders or they die.
Mutual aid and automatic aid are important, but responders from outside your service area aren't likely to play a role in the transport of critical patients. Patients with immediate life threats – red tag – will either be transported by the ambulances which arrive first or in police cars, taxis, busses or civilian vehicles.
Clumpner recommended the 20-60-90 rule to underscore the importance of rapid transport and the urgency to get critical patients to a hospital.
Within 20 minutes of injury, an EMS provider will be at the patient's side.
Within 60 minutes of injury, all patients are transported to definitive care.
Within 90 minutes of injury, all patients who need a trauma surgeon will be in surgery.
3. Transport destination matters for patients with ballistic injuries
Because mortality increases every minute for a patient with a survivable ballistic injury, the transport destination is critical. Patients need a trauma surgeon, blood transfusion or both. And those patients need to get to hospitals quickly. According to Clumpner, one-third of the Pulse Nightclub patients died of survivable gunshot wounds.
Patients from these mass casualty incidents who arrived at the hospital alive survived their injuries:
Fort Hood
Boston Marathon
San Bernardino
Las Vegas
All fatalities in these incidents were either dead at the scene or dead on arrival at the hospital.
Top Tweets
Learn more about active shooter incident response
Here are some other articles from EMS1 and a learning opportunity from the EMS1 Academy on school shooting response, mass casualty incidents and bleeding control.