LODD: N.Y. EMT, 19, dies after suffering medical emergency
Susan Giovanniello served as a volunteer with the Glen Cove EMS Corps, rising up from their Explorer post
Duty Death: Susan Giovanniello - [Glen Cove, New York]
End of Service: 04/03/2023
---
By Kerri Hatt
GLEN COVE, N.Y. — The Glen Cove (New York) Volunteer EMS Corps has announced the line-of-duty death of 19-year-old EMT Susan Giovanniello.
According to FirefighterCloseCalls.com, Giovanniello died after suffering a medical emergency following her shift that ran Saturday evening until Sunday morning.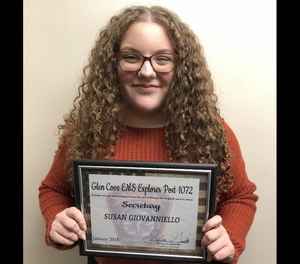 "EMT Giovanniello proudly served as a volunteer responding to many emergency calls throughout the City of Glen Cove, rising up from Glen Cove EMS Explorer Post 1072 to a caring professional who gave the ultimate sacrifice to our community," the announcement noted. "Susan, with her contagious smile and demeaner, put forth calm in stressful situations as it related to patient care. Her enthusiasm for training and teamwork with the Corps will be greatly missed; she is a hero and will live on in our hearts forever."
According to a post raising funds for her family, Giovanniello was the secretary of the Explorer program. "Susan was known by everyone as always having the brightest smile in the room. Susan always offered a hand to hold when her peers were having a bad day or even just to make them smile," the post reads. "She will forever be missed and never be forgotten." 
Giovanniello is survived by her parents, Lou and Julie; siblings, Jessica and Michael; grandparents, Anna Giovanniello and Vincenzo Viselli; as well as aunts, uncles, cousins and friends.
Visitation will be held at the Dodge Thomas Funeral Home Wednesday, April 5, from 3-5 p.m. and 7-9 p.m. The funeral will be Thursday, April 6, at 10 a.m. at St. Rocco's Church in Glen Cove.
The department is asking for support on behalf of the family through the FundtheFirst campaign.