R.I. bill to let EMS providers treat K-9 officers passes in House
If no humans are waiting for treatment or transport, EMTs and paramedics would be allowed to help the dogs
---
By Leila Merrill
PROVIDENCE, R.I. — The Rhode Island House of Representatives voted in favor of a bill to allow K-9 officers injured in the line of duty to be treated and transported by EMS providers.
As long as there are no humans waiting for treatment or transport, EMS providers would be allowed to help the dogs, according to the Newport Buzz.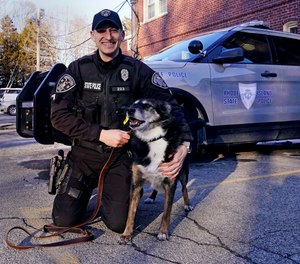 The legislation goes to the state senate next.
It is based on a Massachusetts law named after K-9 Officer Nero. Nero was severely injured and his human partner, Sgt. Sean Gannon, died in a 2018 shooting.
Current state law only allows EMS to treat people.
"Police dogs are some of the most loyal, untiring public servants there are. They protect and serve the public alongside human officers, sometimes at great risk to their own lives and safety. They are also valuable resources, having undergone months or years of training to be able to perform special duties. They absolutely deserve to have all the necessary emergency treatment if they get hurt in the line of duty, and no EMT should have to decline to help them or face any kind of repercussion for helping to save their lives," said Rep. David A. Bennett (D- Warwick, Cranston), the bill's sponsor.