Lawsuit settled between 2 Texas county ambulance providers
Under an agreement, University of Texas Health East Texas EMS remains the Smith County's main provider, while Christus EMS will operate on a limited basis
---
by EMS1 Staff
TYLER, Texas — A lawsuit between two ambulance providers competing in one Texas county has been settled, with agreements made as to when each provider can transport patients.
UT Health East Texas EMS (UT Health), which has a contract with Smith County, said that contract was violated when Christus EMS was allowed to operate in the area, according to the Tyler Morning Telegraph.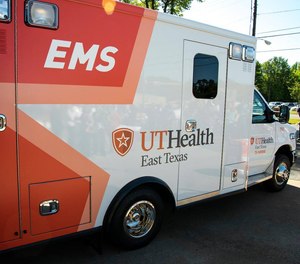 Christus officials counter-argued that the UT Health contract created an unfair monopoly within the county.
Under an agreement announced today, UT Health will maintain its contract as the main ambulance service for Smith County and the city of Tyler. However, Christus will be allowed to transport patients in the region, but only between its own Christus Trinity Mother Frances hospitals.
"The settlement is in the best interest of the citizens of Tyler and Smith County as it alleviates the confusion the dual ambulance operations were causing and allows UT Health East Texas to remain the exclusive provider of ambulance and emergency services," said UT Health CEO Moody Chisholm.
"We are pleased to have this matter resolved in a manner that allows Christus EMS to provide our patients with seamless transportation between our Christus Trinity Mother Frances facilities," said Chris Glenney, senior vice president and group operations CEO for Christus Northeast Texas Region.
UT Health will continue to handle all emergency medical calls, and transport patients to either UT Health or Christus hospitals. Christus EMS is permitted to use their ambulances to transport patients from one Christus hospital to another.
Days prior to the settlement, the Tyler City Council and Smith County Commissioners Court approved extending their contract with UT Health, despite some board member concerns.