Country artists perform for Las Vegas shooting victims, responders at hospital
Musicians On Call, an organization that brings live music to hospital patients, brought four country acts to serenade the crowd
---
By Mick Akers
Las Vegas Sun
LAS VEGAS — When a gunman showered down bullets from the 32nd floor of the Mandalay Bay at 22,000 people attending a country music festival, 58 people died and almost 500 were injured.
Those caught in the deadliest mass shooting in modern U.S. history didn't know if the Route 91 Harvest Festival would be the last concert they would ever attend.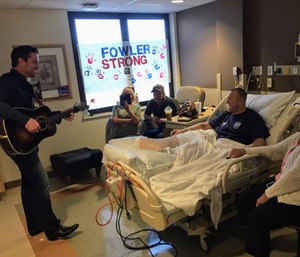 Ensuring it would not, Sunrise Hospital brought the music to some of the survivors and hospital staff who helped care for the victims, as they continue to heal from their gunshot wounds.
Musicians On Call, a nonprofit organization bringing live and recorded music to the bedsides of hospital patients, brought four country acts, two of which performed at the Route 91 Harvest Festival, to serenade the special crowd for an hourlong show.
"My daughter seems to not care too much for the hospital and all the in-and-out of the room," shooting survivor Kurt Fowler said. "This was a big thing for her to be able to understand that all these people were here helping and people care."
Fowler, 41, who was shot in his lower right leg, shattering his tibia and fibula, and his 10-year-old daughter, Timori, have a tight bond. With all that has transpired over the past 10 days, this was a much-needed event for them.
The two could be seen embracing and laughing as Fowler sat in his wheelchair in the crowd.
"(The bonding time) has been a little absent this week, so we were able to get back to normalcy," he said. "Just being able to hug and dance—just be normal."
That was just what the performers had in mind, as they were happy they could give all involved in the tragedy something to smile about after enduring so much.
Michael Ray, a country music artist who played the final set at the performance, said his family is full of first responders and that he did all he had to do to be present Wednesday to show his support to them and the victims.
"Everybody kind of overlooks you guys (hospital staff and first responders) because it's your job and everyone thinks you have the time to decompress, but you don't, because you have somebody relying on you," Ray said while holding back tears.
Fowler, a firefighter out of Lake Havasu, Ariz., and his wife were celebrating their 18-year anniversary with family and friends at the Route 91 Harvest Festival when he was shot.
Fowler couldn't run after getting hit, so he crawled and hid under the soundstage, when a good Samaritan helped stabilize his injury and get him to the hospital.
"I crawled underneath the sound stage and the Samaritan was able to assist me to make a tourniquet to stop the bleeding," Fowler said. "That was a big turning point, knowing that the bleeding stopped and now we could work on getting the rest of the way out of the venue."
Being a firefighter himself, Fowler said he appreciated the work of the local first responders during that harrowing night, but it's the concertgoers who aren't trained for such a response who stepped to aid the fallen that stood out to him.
"Everybody just did their job," he said. "There were a lot of ordinary, everyday people who ran in and out and drove people to the hospital in private vehicles. Those are your everyday heroes. They aren't prepared for this type of situation and they go in and help people."
With one surgery down, and likely one more to go to add another metal rod to his leg, Fowler said he was told he would eventually regain full use of his leg.
"I continue to pray every day and with the right amount of people behind me ... that I'll make a full recovery," Fowler said. "The end game is to go back to work and do what I do and help people, provide for my family and go back to boating, camping and hiking—all that good family stuff."
Copyright 2017 Las Vegas Sun
Musicians On Call Delivers the Healing Power of Music to Las V...

A sneak peek of our #MOCheals visit to Las Vegas. MOC Volunteers Charles Esten, The Railers and FilmoreMusic made special bedside visits for patients and group performances for staff and caregivers at Sunrise Hospital and Medical Center and University Medical Center of Southern Nevada. Stay tuned for more updates >> www.musiciansoncall.org/mocheals

Posted by Musicians On Call on Tuesday, October 10, 2017