Calif. county medics vote against unionizing as supporters dispute allegations
The issue has divided employees at San Luis Ambulance, a 75-year-old private company
---
Sara Kassabian
The Tribune
San Luis Obispo, Calif. — Paramedics and emergency medical technicians working at San Luis Ambulance voted against unionizing after a fierce campaign that created division between employees at the 75-year-old private company.
Those in favor of joining the Healthcare Workers Council of the United Steelworkers Union said workplace safety concerns and fear of management led them to organize.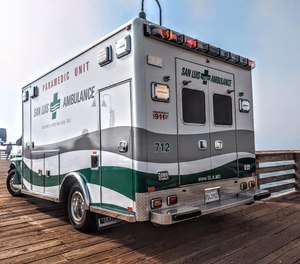 But opponents felt unionizing efforts were an affront to a family-oriented company that goes out of its way to care for its workers.
SLA has eight locations across San Luis Obispo County.
Nick Drake, an SLA division supervisor, was among the employees who opposed the union effort.
"I'm elated" by the outcome of the vote, Drake wrote The Tribune via text message. "I was hopeful, but wanted to protect my heart and not get my hopes up."
Joe Amaral, a paramedic who has worked at SLA for 20 years, said that the majority of the company opposed the union and decided to "stay quiet, take the high road."
"The union thing was a small vocal minority airing their own dirty laundry about their own personal issues," Amaral said.
Many workers at SLA said they felt there was a real risk of the company shutting down or selling if workers join the union — with some characterizing that threat as "union busting."
A total of 43 people voted against joining the union, with 15 votes in favor and 19 contested votes, according to an email sent by San Luis Ambulance to staff that was shared with The Tribune. Twenty workers who were eligible to vote opted not to, and two others who would likely have voted in favor of the union recently quit SLA, said Shelley Harper, a paramedic at SLA who was part of the union organizing committee.
Some of the contested votes came from division supervisors that work at the company, whose eligibility to vote might have been questioned, Kendall, an SLA paramedic and union organizer, wrote via text message. The Tribune identified her using a pseudonym because she feared retaliation.
Ballots were cast by mail on Oct. 22. Representatives from the National Labor Relations Board and SLA watched the ballot count on Wednesday afternoon, together with Harper.
Characterizing the tally as "a solid defeat," Kendall wrote, "It was a victory to get this vote. This is the first successful run at a union in 75 years.
"This effort was about allowing people a vote and finding a safe voice to prompt change. Progress is never without adversity!"
Ambulance employees: Workplace safety concerns are unsubstantiated
While union organizers described a workplace at San Luis Ambulance that's hostile and at times unsafe, other employees interviewed by The Tribune said they feel safety concerns have been blown out of proportion.
Drake, who has worked at the company for 16 years, questioned claims of union-busting activities, COVID-19 safety concerns and retaliation from the SLA management team.
"I don't feel that they're substantiated," Drake said.
SLA employees acknowledged that work weeks have gotten progressively longer with more mandatory and so-called "force-hire" shifts to keep ambulances fully staffed.
Mandatory shifts are the main reason paramedics at SLA are working more hours, Nancy Brooks, a paramedic who has worked for SLA for 14 years, wrote in an email.
She explained that employees are given three days' notice ahead of their mandatory shifts, and can opt to work the shift or pick a different shift and move down the list.
"Each employee has a choice of what shift they pick up, although the terminology 'mandatory' sounds as though you don't," Brooks wrote.
"Force-hire" shifts happen when a team member calls in sick and an employee is required to stay at work until someone else can come and relieve them, she wrote.
Brooks wrote that longer work hours at SLA are due to a nationwide paramedic staffing crisis, as well as frequent sick calls among workers.
"So do we work over 100 hours in a week? Does it happen? Yes, (but) not often" said Brian Bernay, a SLA paramedic who has worked there for 15 years.
While some SLA employees on the union organizing committee described challenges with finding N-95 masks that fit and concerns about decontamination procedures for the ambulances, others say the company went above and beyond to secure personal protective equipment (PPE) for staff at the beginning of the COVID-19 pandemic at a time where hospitals were experiencing shortages.
"SLA bought from three different suppliers last year to ensure everyone was properly fit-tested," Brooks wrote. "They will always strive to make accommodations available."
Brooks, Drake and Bernay also said they found the term "union busting" to describe SLA management's approach to the unionization effort to be derogatory and offensive.
A document distributed by the SLA management team and shared with the Tribune by Drake stated "no staff member will be disciplined or retaliated against" for supporting the union.
"We encourage your right to vote and would appreciate your NO vote on Friday October 1, 2021," the management team said in the document, dated Sept. 27.
The document was signed by three members of San Luis Ambulance's leadership: vice president Justin Kelton, general manager Chris Javine and Joe Piedalue, director of operations.
Although SLA union organizers and other employees said they are afraid to speak their mind to management, many paramedics and division supervisors said they feel empowered to speak freely without negative consequences.
"That union side is grasping at straws and any small thing that's said or done. We're not getting in trouble for speaking our minds," Amaral said.
Drake said that he felt being a part of a union would hinder his ability to speak with management directly and candidly.
"I just really like how the company runs," Drake said. "I like my ability to go in and speak my mind to the owner or any of the upper management whenever I'd like to and I feel that a union would hamper that."
The company values honesty and personal accountability — by owning your mistake to management, you are unlikely to suffer negative consequences, Drake, Amaral and Bernay said.
"You have to work pretty hard here to get fired," Bernay said.
In one example Drake offered, a nurse working at SLA was asked to take a drug test earlier this year after administering narcotics to a patient who was not in pain. Instead of taking the drug test, the nurse quit on the spot, he said.
The paramedic who was with the nurse when the incident happened was not reported to the county or disciplined, Drake said.
"I would say a bad decision or a bad day for that employee. They were not making good choices and could have put the patient or the company at risk," Drake said. "But when it all came down to it, the paramedic was not punished."
Drake said he told the paramedic that if that incident happened while she was part of the union she likely would have been fired on the spot.
SLO County Emergency Medical Services conducts narcotics audit
According to Kendall, narcotics handling has been an ongoing problem at SLA.
The San Luis Obispo County Emergency Medical Services Agency (EMSA) is currently conducting an audit of the handling of narcotics and controlled substances at San Luis Ambulance.
Such an audit is standard practice for all fire departments and ambulance companies, said Vince Pierucci, county EMSA director.
"They would've been coming up anyway for an audit but given the number of complaints we've received it put it higher on our radar," Pierucci said.
Pierucci anticipates that the audit will be completed by the end of November.
Drake said that he welcomes such scrutiny.
"We're ready for that all the time," Drake said. "Our paperwork is in line and ready to go."
Employee morale at San Luis Ambulance
Part of Drake's duties as an SLA field supervisor include conducting employee evaluations every six months. During these evaluations, he said, has noticed that a lot of employees express feeling unheard by management.
"One of the questions we ask is 'Do you feel like you have a voice in the company?' And I've had lots of employees say that they feel that they don't," he said.
Drake and Amaral said the issue may be that employees' proposals aren't always accepted.
"So over time you might feel like no one's listening to (you)," Drake said.
Bernay said that he has noticed morale issues among a significant number of workers at SLA, while others see issues that could be improved at SLA but feel overall that it's a good company to work for.
"I'd like to reiterate SLA is thoughtful, generous and open-door company that truly wants to provide an enjoyable working environment," Brooks wrote in an email. "I think the pressures of the pandemic, staffing issues and increased work hours, have contributed to the unhappiness of some employees."
Drake said he feels the unionizing effort has been an eye-opener for upper management.
After the failed effort to unionize, "I just hope that we can figure out a way to come back together as a unified company and focus on what we're here to do, and not think about the different objectives that we had," Drake said.
___
(c)2021 The Tribune (San Luis Obispo, Calif.)
McClatchy-Tribune News Service