RI bill seeks EMS care, ambulance transport for police K-9s
State law currently permits emergency medical services to be used for humans only
---
By Laura French
PROVIDENCE, R.I. — A proposed Rhode Island law would permit EMS providers to treat and transport police K-9s that are injured in the line of duty.
Rhode Island Rep. David Bennett introduced the bill that would make an exception for K-9s in state law, which does not currently permit the use of emergency medical services for animals, according to Patch.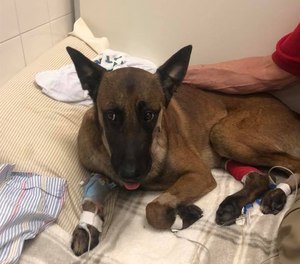 "Police dogs are some of the most loyal, untiring public servants there are. They protect and serve the public alongside human officers, sometimes at great risk to their own lives and safety," Bennett said. "They absolutely deserve to have all the necessary emergency treatment if they get hurt in the line of duty, and no EMT should have to decline to help them or face any kind of repercussion for helping to save their lives."
The law would only apply to K-9s, not household pets, and would not allow K-9s to be treated when there are human patients waiting for treatment.
The proposed legislation is modeled after a similar bill in Massachusetts known as "Nero's Bill," named after the K-9 partner of fallen Yarmouth Police Officer Sean Gannon. Gannon and Nero were both shot while serving a warrant in 2018 – Gannon was killed in the line of duty, and Nero survived, despite having to be rushed to an animal hospital in a police cruiser, as EMS providers were legally prohibited from treating or transporting him.