IV manufacturer addresses solution shortages
Baxter said their manufacturing sites that were impacted by Hurricane Maria in Puerto Rico are now all connected to power grids
---
By EMS1 Staff
DEERFIELD, Ill. — An IV manufacturing company provided an update on its efforts in ending the nationwide IV bag shortage.
IV bag manufacturer Baxter (the company's operations locations in Puerto Rico were impacted by Hurricane Maria) released a press release stating that all of the company's  sites are now connected to the commercial electric grid and operating at pre-hurricane levels.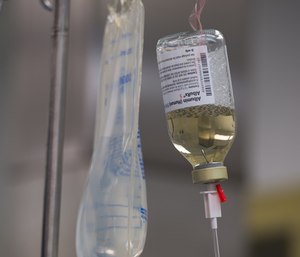 The release noted Baxter also activated recovery strategies to help supply the U.S. with more IVs and worked with the FDA to temporarily import special products from Baxter's international locations, such as Ireland and Brazil, resulting in millions of new units being shipped to the U.S. 
The manufacturing company stressed, however, that the imported products do not fully address the demand created by a halt in production due to the hurricane. The release reported Baxter is continuing to work with the FDA to use other international facilities to support the need for its products as much as possible.
The company noted more normal supply levels should be expected for products made in Puerto Rico in the next few weeks, and demand for the LVPs should decrease when the flu outbreak ends.