Man reunites with first responders who 'saved his life' during a snow storm
Rescue crews had to shovel some of the four inches of freshly fallen snow to get to Bob Beaman after his wife called 911 to report his heart attack
---
Phil Anderson
The Topeka Capital-Journal, Kan.
Bob Beaman credits first responders for helping save his life after they braved snowy conditions and extreme cold weather to get to his home southeast of Topeka after he suffered a heart attack early Sunday, March 3.
On Wednesday morning, those who had a hand in getting Beaman to the University of Kansas Health System St. Francis campus at 1700 S.W. 7th were honored with the "Great Save" award, which the hospital presents quarterly to paramedics and first responders for their work in helping save lives in the Topeka area.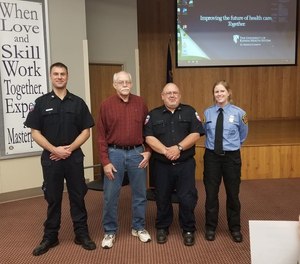 Beaman, 67, who was present for the "Great Save" ceremony, recalls in detail what happened the night he suffered a heart attack.
"I woke up the first time around 1 or 2 o'clock in the morning," he said. "I wasn't feeling well. I went to the bathroom and looked at myself in the face and I was gray."
Thinking he may have had the flu, he went back to bed.
But when he continued to feel bad, he got up and again saw his "gray" appearance in the bathroom mirror.
"I went back to bed and started having chest pains," Beaman said. "Then my arm started to tingle. I thought, 'I'm having a heart attack.'
"My wife came in and she finally said, 'I'm calling the ambulance.' "
Beaman remembers nearly everything in detail from that morning: the blizzard-like conditions outside; the cold weather, with a low of 3 degrees; the way cars in the driveway had to be moved to make room for the ambulance; the way rescue crews had to shovel some of the 4 inches of freshly fallen snow to get to him; and how paramedics loaded him onto a gurney and somehow maneuvered around a piano in his house to get him to the ambulance.
"They saved my life," Beaman said Wednesday, after the "Great Save" ceremony had ended in the St. Francis auditorium. "It was a bad morning. They basically risked their lives. This is what they do. And everything worked out great."
Beaman credits his wife, Theresa, for making the 911 call that brought help.
First responders arrived a short time later from the Shawnee Heights Fire District, followed by American Medical Response ambulance crews.
As they were treating Beaman, first responders notified the St. Francis emergency department that they were on their way, saving important minutes for the patient, hospital officials said.
Then the medical team at St. Francis provided care for Beaman.
Surgery was done to place a stent in a blocked coronary artery, Beaman said. The relief was nearly immediate after the procedure, which he said lasted about 45 minutes.
He said he was in the intensive care unit at St. Francis for a couple of days before going to a private room. By 2 p.m. March 6, he was back home.
On Wednesday, Beaman said he was feeling well, though he took it easy for a few weeks after the scare.
Beaman said he was glad he could see those who helped provide emergency medical care that frigid March morning, including first responders and St. Francis hospital personnel.
Among first responders who were on hand at Wednesday morning's ceremony was Lt. Jessica Shrewsbury, of the Shawnee Heights Fire District.
In most cases, Shrewsbury said, first responders don't get a chance to see the people they helped.
"I'm mostly thankful to see our patient, seeing he's doing well," Shrewsbury said. "That's what's important to me."
Shrewsbury said the weather conditions were treacherous that morning, and that the Shawnee Heights Fire District's four-wheel-drive SUV that is used expressly for medical calls came in handy.
"Everything came together," she said. "Everyone worked well as a team and the patient had a good outcome. That's really what's important to me."
———
©2019 The Topeka Capital-Journal, Kan.
McClatchy-Tribune News Service