Mistletoe drone hits woman in face
The operator insisted a photographer let the drone land on her hand during a media event; she flinched and it hit her nose, drawing blood
---
By Adrienne Cutway
Orlando Sentinel
A photographer at a media event for TGI Fridays new mistletoe drone was injured when the operator tried to land the drone on her hand, according to Brooklyn Daily.
Looks like TGI Fridays mobile mistletoe campaign has hit some turbulence. Instead of coaxing a Christmas kiss, one woman got scrooged with a nick.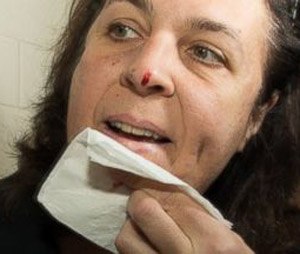 TGI Fridays has launched its Mobile Mistletoe promotion for the holiday season, promising customers that if they share a kiss when the drone is overhead they'll be given a holiday gift.
Brooklyn Daily photographer Georgine Benvenuto was at a media event covering the Mobile Mistletoe launch when its operator insisted that she let the 10-inch drone land on her hand. Benvenuto flinched and the drone ended up hitting her in the face, drawing blood on the tip of her nose. 
TGI Fridays has said what happened to Benvenuto Thursday was an isolated incident that wouldn't have happened if she hadn't flinched, while Benvenuto says the drone operator should have been more careful.
———
©2014 The Orlando Sentinel (Orlando, Fla.)