Holiday stories: What Marvin taught me about Santa
Fire service holiday stories give us fits of disbelief, laughter and tears
---
And with that Christmas is upon us and the year is almost over. I have amassed a lot of memories of the holidays in my many, many years — some pleasant, some not.
One of my fondest memories growing up in Gibbstown, N.J. was that special Saturday in December when the local volunteer fire department would transport Santa around town giving out candy canes. I couldn't wait. I wish I had a photo of that now.
I am not addicted to peppermint or anything like that; I just wanted to see the fire truck up close.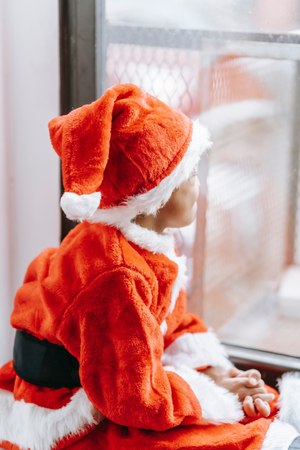 Years later when I started doing the Santa thing, I never realized the importance of the whole operation. We took great pain to ensure that if we had dual Santas out on two trucks they were not seen together. That would probably be emotionally scarring to a child.
Fruitcake cookies
One year during our peppermint odyssey, an average looking woman was standing on the corner dressed as Mrs. Claus handing out Christmas cookies. We paused and all took a cookie from her. Her costume was quite remarkable. Everybody on the truck took a cookie. She did this every year.
Then one fine day we were called to the local elementary school to meet with the school officials. A young student had set a fire in a restroom. It was nothing more than a waste can, but the event still led to utter chaos.
Soon, the mother arrived and I immediately recognized her as Mrs. Claus. She seemed pleasant and reasonably normal. The school principal questioned her as to the whereabouts of the boy's father.
She told us she wasn't sure then went off into a rambling dissertation on how she was impregnated by the mother ship hovering over her house before it returned to the home planet.
Yeah, I probably shouldn't have eaten any of those cookies.
We even had a drunken Santa one year. It was curious that on the way to the event he fell asleep. However, when the door was opened he stood up, yelled, "Ho, ho, ho," and took a dive (ala belly flop) to the pavement. We laughed until we hurt.
However, the Santa story that will always stick in my mind involved me learning the true meaning of Santa.
Unhappy holiday
I was doing the medic-unit thing when we were called to an apartment complex late one afternoon. Earlier in the day an infant had been found dead at the same complex and the police were suspicious of the situation.
We arrived and I met Marvin, which is not his real name. Marvin was about eight. He had a sister too.
Marvin and his sister lived in the apartment where the dead infant had been found, which was now a murder investigation. Neighbors found Marvin and his sister wandering around the apartment complex. The police wanted us to take the kids to a children's hospital for evaluation.
For some reason, Marvin's sister didn't want to sit down in the back of the ambulance. She was a year or two younger than Marvin.
When the paramedic I was with removed the diaper it was plain to see why she didn't want to sit down. The skin was completely burned off her rear end. She had been horribly abused.
Wonderment of childhood
As we left the apartment complex, news helicopters hovered above for the live shot for the evening news. The trip down town was uneventful. When I opened the red doors on the medic unit Marvin popped out. His eyes were wide with wonderment at the lights and big buildings in downtown Houston.
At the triage desk nurses were wiping away tears as they looked at the little girl's injuries. Phone calls were being made for the child psychologist team on call.
Meanwhile, I noticed a large Christmas tree in the lobby. I told Marvin to come with me and check out the big tree in the lobby.
While we gazed at the 10-story tree I felt a gentle tug on my pants. I looked down and Marvin motioned for me to come closer. Marvin hadn't said a word through the entire ordeal. He looked up at me and said, "Do you think Santa will find me? I have really tried to be good."
Oh my gosh! I was dumbfounded. For the first time in my life I understood the whole concept of Santa and how important he is to kids. I stood there speechless.
Marvin and his siblings belonged to a single mom who had gone to work and left her boyfriend in charge. I am guessing the boyfriend wasn't good with kids. When we left the apartment complex mom and beau were both in handcuffs.
Moments of understanding
By all accounts Marvin hadn't had a good day. He had lost a brother, his sister had been tortured and seriously burned and his mother was in handcuffs.
But through it all Marvin still believed. He still believed in the fat man in the red suit. His belief in the concept of a sleigh and eight flying reindeer endured through it all.
For the first time in my life I understood how important Santa Claus is. No matter if it is a retired person in a department store, a friend, neighbor or one of us wearing that itchy beard. Santa means the world to these kids.
I don't know whatever happened to Marvin and his sister. I never follow up on these things. I did hear that mom and the boyfriend won an all-expense, all-inclusive trip to a Texas Department of Corrections facility for a number of years. Good for them.
To this day I think about Marvin every Christmas morning. I hope he had something under the tree on the big morning.
And with that we conclude another year. Remember those who have been lost doing what we do this year. Merry Christmas to all and to all a good night.
This article was originally published in 2012.