Pilot killed, flight paramedic and nurse injured in EagleMed helicopter crash
The helicopter was returning from transporting a 13-year-old boy who was hit by a car to a Tulsa hospital
---
EUFAULA, Okla. — EagleMed released a statement about a fatal helicopter crash Thursday night. The statement, which names the crew on board, reads, in part, as follows:
"First and foremost our thoughts and prayers are with the families and loved ones of those involved and our entire EagleMed family. Nurse Kim Ramsey and paramedic Ryan Setzkorn sustain non-life threatening injuries.
Sadly, pilot Matt Mathews perished. The company will work closely with the NTSB, which will investigate."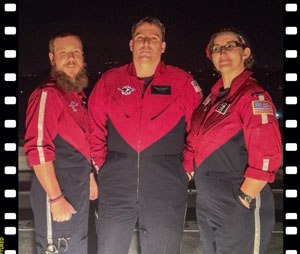 FAA spokesman Lynn Lunsford says the helicopter crashed around 11:25 p.m. Thursday near Eufaula, west of Lake Eufaula.
The Eurocopter AS350, owned by EagleMed LLC, was flying from Tulsa to McAlester when it crashed with only the three-member crew on board, reported FOX 23. The helicopter was on the way back from transporting a 13-year-old boy who was hit by a car.
After the crash crews rode 4-wheelers through a muddy and heavily wooded area to search for the crash scene.
McIntosh County Emergency Management director Wesley Dawson said the helicopter's GPS signal was first picked up by Pittsburgh County, but then it moved and signals were picked up by McIntosh County. The agencies worked together to locate the site.
FAA investigators and the National Transportation Safety Board are leading an investigation of the incident.