Officials: Driver fell asleep in fatal ambulance crash
The Indiana State Police said Christine Wesner failed to stop at a red light after falling asleep behind the wheel while transporting a patient
---
By EMS1 Staff
MIAMI COUNTY, Ind. — An EMS provider driving an ambulance that crashed and resulted in the death of an EMT fell asleep behind the wheel, according to police.
FOX59 reported that Christine Wesner was driving the ambulance that was transporting a 5-month-old patient to the hospital when she fell asleep and crashed into another car after failing to stop at a red light.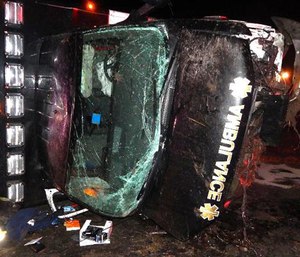 The ambulance rolled over onto its passenger side and EMT Mousa Chaba was partially ejected from the back of the ambulance. He died from his injuries.
The incident highlights several studies that claim fatigue is a widespread EMS issue due to long shifts.
"According to the Joint Commission, a substantial number of studies indicate that the practice of extended work hours contributes to high levels of worker fatigue and reduced productivity," Jay Fitch said in a recent column.
The crash is currently under investigation.