Habits and hacks to transcend the pandemic
Stay connected while getting a breath of fresh air
---
The pandemic has kept us mainly indoors and undercover, but the last 18 months have also provided an opportunity to grow stronger and wiser, despite the isolation. 
COVID-19 has been a Darwinian event, in that a certain amount of adapting to overcome has been required. 
Now things are opening again, there are a few hacks, habits and hints that will remain with me both professionally and personally.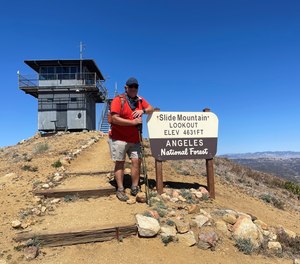 Free online education
Throughout the pandemic, professional certification and CE has been a challenge. Fortunately, consent was given to provide online CE earning, distributive training to allow recertification. The altruistic contribution by many EMS educators coming together to provide free education led to the creation of Refresh2021, and 25,000 EMTs and medics enrolled for world-class education and re-accreditation. Refresh2021 is still open, providing CE, and continues to provide free recertification to those that need it.
The power of the podcast
Since the pandemic began, I have penned over 50 articles and columns for EMS1. It occurred to me that not everyone reads them, but I could assist by reading them aloud. This led to narration of my articles and in turn, to a guest to chat about the topic, and a podcast was born. As well as being a provider, I'm also a consumer, and as one of those people that must have a buzz of noise around me when I work, I have replaced the radio (well, Alexa) with podcasts from Apple Podcasts. No matter your taste, style, political persuasion or sense of humor, there is something for anyone and my go-to pods are the Guardian Long Reads; the UK military analysis show, "We Have Ways of Making You Talk," and of course, "Inside EMS."
Hiking habits
My significant other, Nancy, and I are fanatical hikers, and we unlocked our lockdown by getting out and about as often as we could. We are in the process of tackling as many peaks in California's Santa Monica, Santa Susana and San Gabriel mountains as we can. One vital app we use to plan our adventures is the Alltrails app. This is a global hiking site that describes hikes and walks in detail, from Nepal's Great Himalaya Trail, through the Great Wall of China loop, to climbing to the top of the Hollywood sign. Alltrails provides mapping and photos and reviews from others that have been on the trail before. If you want someone to take your exercise vicariously, visit my hike VLOG site on YouTube.
An English country garden
Lockdown and beyond provided me with a set of green fingers. With a couple of empty flower beds in my backyard, I planted a few potatoes that had gone to seed and the root ends of some spring onions, just to see what happened. To my great delight, they grew. This was followed by some small cherry tomato plants and, in a matter of weeks, it was all going on. I Googled composting containers, and a large plastic tote peppered with drilled holes later, and I was turning grass clippings and vegetable offcuts into nutritious fertilizer. It has provided much pleasure and peace of mind to watch my garden grow in my splendid isolation. Carol Speake, The Gardening Cook, offers 30 budget-friendly hacks to get you started.
Separated by a common language
I describe myself sometimes as a frustrated journalist, and my passion for writing is sometimes let down by my spelling and punctuation. I must check my work constantly, and as a Brit living and writing in the U.S., we speak the same language (well almost), but spell differently. The English love of the vowel "U" confounds the checker, and so everything I write is processed through Grammarly, which provides a free grammar and spelling check, and also usefully provides a clarity and engagement score.
'Hollywood Squares'
The "Hollywood Squares" of Zoom and similar platforms we have all been indulging in have contributed to the continued-yet-isolated passage of information. The bingo card of new phrases (e.g., "sorry, I was on mute," to, "you are on mute,") has provided light relief. These platforms have transformed the traditional, we speak, you listen webinar. Audiences have been allowed to interact and contribute, enriching the experience for all. While I suggest meetings cap at 55 minutes so the coffee machine can be cared for, "Groove Blog's" Alex Turnbull offers "16 Advanced Zoom Tips for Better Video Meetings."