EMS From a Distance: Forget me not
What skills and practices should be routine for EMS providers in the field?
---
By Mike Rubin
One of the strangest and most disturbing headlines I've seen recently is this one from Parents.com: "7 Ways to not forget your child in the car."
The tragic basis for that article – young children who die when left alone in hot, unventilated vehicles – seemed secondary to the author's theme about parents needing prompts to avoid accidentally killing their kids.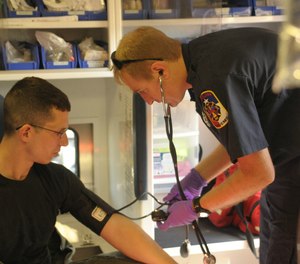 Suggested reminders like, "Leave an item you'll need at your next destination in the backseat" sounded so absurd, not to mention grammatically ambiguous, I wondered how my daughter had survived all those summers as a toddler before I carried a cellphone.
Routine but crucial EMS skills
Then I engaged paramedic mode and started itemizing important things we do in the field without heavy-handed memory aids – stuff that should be as routine as parents unloading their children with the groceries.
Here's my list of essential EMS skills:
Safe driving. I've noticed two broad categories of emergency-vehicle operators: those who tailor their driving to the circumstances of each call and those who just want to get from Point A to Point B. The latter often inflict unnecessary g loads on passengers and make this two-time survivor of ambulance-bending very nervous.
Scene surveys. We're taught to treat scene surveys as routine before we have enough experience to do so. Just listen to any NREMT candidate parrot, "The scene is safe" at the beginning of an assessment script. Do they ever get asked for specifics? I hope not, because there aren't many subtle sensory cues students would know about.
What equipment to carry. Lightening the load by leaving a bag or monitor behind is something that's burned most of us, but this is as much about using pockets as hands. Think small, essential and often-ignored extras: glucometer batteries, laryngoscope bulbs, O2 gaskets, alcohol wipes, electrodes, VeniGuards, 18-gauge angiocaths and 1-inch tape, for example. One of each fit easily in the same pants pocket and will stay there until used, or subjected to a permanent-press cycle.
Time-sensitive procedures. Skill sheets are fine for training, but rote adherence to algorithms is not the same as mastering fundamentals. When confronting golden hours, platinum minutes or just your basic load and go, anything invasive, life-saving or damage-limiting can't wait for a real-time Wikipedia consult.
Basic math. In this age of automated, fill-in-the-blanks formulas, some of you will disagree that we need anything more than smartphones to figure medication dosages in the field, but even those remarkable devices won't tell you which equations to use. When I taught drug math, the most common errors I saw were procedural – not arithmetic. Paramedics who don't understand the difference between calculating an IV bolus and an IV drip aren't going to be helped much by "midnight rules" or "lidocaine clocks."
Safe lifting. This is my sentimental favorite because I often skipped the safe part – not the lifting part – and now can't outrun my wife when she's chasing me. Mechanized stretchers are wonderful things, but they're not going to protect us every time we put too much strain on non-load-bearing body parts.
Thorough documentation. One of my jobs many years ago in a large EMS system included periodic reviews of manual patient-care reports. Many of the PCRs reminded me of papers written by my classmates – in sixth grade. Poor spelling and grammar – a grown-up problem throughout society – made most of those reports seem ambiguous. I'm not sure we can fix that problem at its source – our schools – but modern ePCR software, when developed and used properly, should compensate for some weaknesses.
Courtesy and respect. When did acting like ladies and gentlemen stop being a prerequisite for constructive conversation? Let me ask all you employers out there: Would you recruit EMS personnel who haven't mastered basic civility? Whether we're dealing with patients, their families, our partners or bosses, being nice should be a natural act.
I'm more than three decades removed from raising a little Rubin, but I'm pretty sure I never left the car without her – not until she was the one doing the driving. During those years when war was cold and pants were hot, being the father of a young child presupposed a loading dose of common sense. Relying on Google or Facebook to facilitate time-sensitive parenting would have been awkward at best, and occasionally dangerous.
The stakes are almost as high for EMS providers. Many of our patients are just as vulnerable as children. Paramedics and EMTs can stay focused and out of the news by making everyday tasks so routine, we don't need cheat sheets, Post-it notes, user guides or high-tech reminders to avoid fatal errors.