20 EMTs from Guam studying ALS at UT Health East Texas EMS
Some instructors traveled to Guam to present live sessions, with the capstone internship planned for in-person completion at UT Health EMS this summer
---
Athens Daily Review
ATHENS, Texas — UT Health East Texas EMS will host about 20 emergency medical technicians from the island of Guam this summer so they can receive clinical field training to become accredited in advanced life support techniques.
"They're going to experience high-performance 911 training through UT Health East Texas EMS and receive training from paramedics who are actively working in the field," said TC Howard, chief operating officer of the School of EMS, which helped coordinate the effort.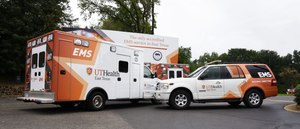 Howard said he was contacted by Guam Fire Department officials more than two years ago because they wanted to transition from basic care to a paramedic level of care. The government of Guam, in conjunction with Guam Fire Department and Guam Community College, was seeking to raise standards and bring their team members up to the advanced life support level, Howard said, so the School of EMS worked with those entities and the Guam EMS Commission to help develop paramedic protocols and education.
"It's a much higher level of care for their citizens," he said. "It's better pre-hospital care and it's getting more care out to the citizens at first contact rather than waiting until they get to the hospital."
Howard said while much of the training is performed online, the School of EMS also sent instructors to Guam, an island and organized unincorporated territory of the United States in the Pacific Ocean, to conduct live training sessions. The final component is a capstone internship required to achieve accreditation, and that will be conducted this summer with UT Health EMS.
"It's a matter of them working on site and learning from and working with high-quality individuals that work for a high-performing 911 system who are used to doing this day in and day out so they can take this back to Guam and utilize it," Howard said. " The School of EMS chose to put them with UT Health East Texas EMS because it's a high-quality system and because of the trust behind it."
The first group arrived from Guam on June 15 and will stay for approximately two weeks. Groups will cycle in throughout the summer to complete their training.
"We are pleased to partner with the School of EMS and the Guam government to show best practices and advanced life support training," said John Smith, CEO of UT Health East Texas EMS. "We hope that their experience with our teams helps them bring the highest level of care to their citizens when they return."
About UT Health East Texas
UT Health East Texas provides care to thousands of patients each year through an extensive regional network that includes 10 hospitals, more than 50 clinics, the Olympic Plaza Tower, 13 regional rehabilitation facilities, two freestanding emergency centers, regional home health services covering 41 counties, an EMS fleet of more than 50 ambulances and four helicopters, and a comprehensive seven-trauma center care network, including the region's only Level 1 trauma facility.
As a partner with The University of Texas System, UT Health East Texas is uniquely positioned to provide patients with access to leading-edge research and clinical therapies while training and educating the next generation of physicians and other health professionals. The nationally recognized UT System also includes The University of Texas MD Anderson Cancer Center in Houston, The University of Texas Southwestern Medical Center in Dallas, as well as three other major university medical centers located throughout the state.
About the School of EMS
The School of EMS is fully accredited by the Committee on Accreditation for Allied Health Education Programs. Once complete with the program students will be able to sit for the National Registry Exam and become state certified as paramedics. The School of EMS provides training for EMR (Emergency Medial Responder), EMT (Emergency Medical Technician) and paramedic certifications. The program is primarily online with sites for live skills sessions located in various cities and states across the United States. Currently the School of EMS trains students from 29 states, one U.S. territory and four countries.
___
(c)2022 the Athens Daily Review (Athens, Texas)
McClatchy-Tribune News Service