NREMT launches EMS certification app
The iPhone app allows EMS personnel to manage their continuing education and recertification components
---
By EMS1 Staff
COLUMBUS, Ohio — The National Registry of EMTs launched a new iPhone app that allows EMS personnel to keep track of their EMS certification.
According to a press release, the app gives EMS providers, training officers and medical directors a way to streamline tracking and management of national EMS certification, verify skills and recertify.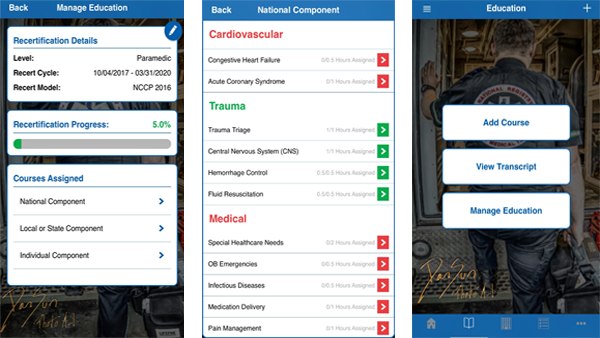 "The launch of the new National Registry iPhone app is an exciting milestone for us as we're dedicated to making National EMS Certification processes easy for every level of EMS professional, from providers to leadership," NREMT interim executive director Drew Dawson said. "Our IT staff has been diligently working to produce a mobile platform that is intuitive and user-friendly, allowing Nationally Certified EMS professionals to effortlessly navigate education and certification."
EMS providers can create an account on the app to access special features such as:
Managing education for recertification, submitting recertification applications and tracking their status and cycle
Accessing transcripts, adding courses and uploading attachments easily, including supporting documentation and certificates
Updating account profiles quickly, including personal information and email notifications
Viewing, adding, and removing agency affiliations
Fulfilling payments securely
Training officers and medical directors can receive access to exclusive features such as:
Viewing agency rosters to identify providers that are due to recertify
Managing agency education including adding courses and assigning attendees
Signing off on providers' EMS skills and education quickly and efficiently
Approving agency affiliation requests, including inactive and active requests
The app can be securely accessed through iPhone Touch ID or Face ID.
Click here to download the app.