EMS Today 2009 Product Roundup: Patient Handling
---
By EMS1 Staff
Stretchers serve as the foundation of a provider's ability to transport a patient. While the necessity of bringing a patient from the scene to the ambulance remains the same, stretcher technology continues to progress. They are becoming more versatile, less manual, and packaged with better features. Learn the latest offerings from top manufacturers at EMS Today in Baltimore.

Ferno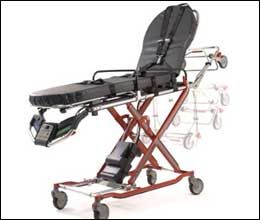 The POWERFlexx+ from Ferno
Ferno continues to offer power ambulance cots that help reduce the threat of injury to providers, as well as increase reliability and functionality. At the heart of Ferno's patient handling products is the POWERFlexx+ that touts a 700 lb. unassisted lift capacity among its many features.
The POWERFlexx+ utilizes a 24V lead acid battery that can go on about 20 calls without needing a recharge. Unlike lithium batteries, lead acid batteries have no battery memory, and can be recharged fully or partially a number of times without shortening battery life. The optional ICS in-the-fastener charging system allows you to charge the battery whenever it's in the ambulance.
Ferno also offers the LBS Bariatric Board, a 34-inch board that mounts onto Ferno cots in order to accommodate larger patients. To see Ferno's complete line of stretchers, stair chairs and other products, visit http://www.ferno.com/.

Monster Medic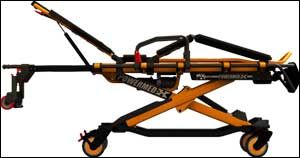 The Powermed-X from Monster Medic
Since making its debut at EMS Today last year, Monster Medic has quickly established a name for itself, garnering several awards including top picks from EMS EXPO 2008 and EMS Magazine.
The Powermed-X ambulance cot sits at the core of Monster Medic's booth, and has features such as power loading technology that prevents tipping, onboard sensors that track patient data, and a "dual energy system" that uses lithium ion batteries for prolonged life in the field.
Representatives at the Monster Medic booth said the company has established itself has a top brand in the patient handling industry and will focus on expanding its focus in the coming months. For more information on Monster Medic's full line of products, visit http://www.monstermedic.com.

Stryker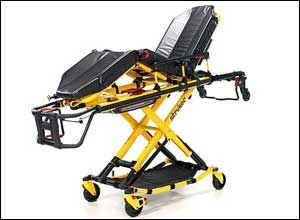 The Performance-PRO XT from Stryker
Stryker is one of the most trusted names in the EMS industry and a constant presence at EMS tradeshows. At EMS Today, the company came promoting a new product from its line: the Performance-PRO XT.
The XT is an all-aluminum manual cot based off of Stryker's power cot, Power-PRO XT, and is being touted as the lightest cot in the industry, weighing just below 90 lbs.
The cot features key functions such as a retractable head area for better movement, and an adjustable knee hatch that can prop up a patient's legs to prevent sliding and increase comfort. The XT ranges from $5,000 to $6,000.
A Stryker representative said that all Stryker products have rugged design, light-weight construction, and a reasonable price with all the necessary features intact. For more information on Stryker products, visit http://ems.stryker.com/index.jsp.

Request product info from top Stretchers and Stair Chairs companies
Thank You!