PRESS RELEASE
Women Lead the Charge at Booming Healthcare Software Company
---
Ninth Brain, a software company that streamlines compliance, training, and communication in the healthcare sector, celebrates twenty years of success this Spring.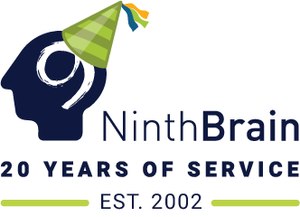 FRANKENMUTH, Mich.,  – With a modest history begun as notes on a napkin by two nurses, the company now known as Ninth Brain sought a simple yet rigorous solution for the complicated compliance requirements faced by healthcare and first responder organizations. This spring, Ninth Brain will celebrate its 20th anniversary. Lisa Tedford, uniquely titled "Captain Grey Matter," and Holly Taylor, "Chief Hat Holder," run Ninth Brain with a passion for helping clients and having a little fun along the way. Tedford says, "I was the first developer to bring the napkin idea to life over 20 years ago. The best part of this journey has been hearing the feedback from the users of our system and how it has helped them with their day-to-day. I enjoy seeing where the next big ideas from our team and clients will take us."
When asked about their overall business philosophy, Taylor says, "We focus on caring about our employees and our clients, the rest just falls into place. Focusing our efforts on being consultative partners to our clients, in turn, creates advocates in the industry which naturally grows our business. We look forward to celebrating continued success with our amazing team of devoted brainiacs and loyal clients."
Using crowdsourced suggestions from clients and industry partners alike, Ninth Brain has grown from Employee Health tracking into an expansive platform known for consultative training and onboarding, workforce scheduling, risk assessments, and quality improvement. These tools have become especially important during this time when Healthcare and First Responder industries are experiencing unprecedented change, staffing turnover, compliance demands, and vaccine-mandate management.
"Ninth Brain has changed how we provide education within our organization, taking us to the digital era by reducing the amount of time used to track and document competencies, required education and credentials," said Lindsey Castle, Director of Education & Clinical Services at MedFlight.
"PatientCare EMS Solutions has been using many of the features provided by NBS to enhance our performance and maintain CAAS and CAMTS accreditations for several years. They listen to our "bright ideas" for improvement and adopt many in their evolving version releases. They are truly customer focused which is not something you get with every vendor. We know our customer support team by name, and we can count on them to be available when we need them." Stated Debbie Vass, Corporate VP of Quality at PatientCare EMS Solutions.
In the spirit of collaboration Ninth Brain is known for, Ninth Brain will celebrate its 20th birthday with nine birthday parties with select clients, provide opportunities to sign up for birthday box surprises and celebrate nominated Ninth Brain super users. You can check out what they are up to here https://www.ninthbrain.com.