How one paramedic went from the streets to the C-suite
Learn how EMS Technology Solutions' VP Shane Garrison used his experience as a firefighter/paramedic to start an EMS technology business
---
The following is paid sponsored content from EMS Technology Solutions.
By EMS1 BrandFocus Staff
There's no doubt that public safety companies led by those who have served in the field have a unique advantage when it comes to product development, especially for the emergency medical field.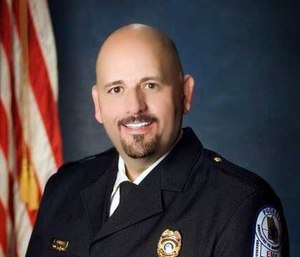 This is certainly true at software innovator EMS Technology Solutions, which has several EMS veterans on its C-suite team, including Vice President Shane Garrison. We asked Garrison about his career and how a firefighter/paramedic can use his or her field experience to develop the right products for the EMS industry.
When did you know you wanted to be a paramedic?
My grandfather and uncles were firefighters. I had been around fire stations growing up, and like most young boys, I liked the fire trucks and seeing the firefighters work.
My grandfather asked me when I was in college, "So what are you thinking about doing?" When I was unable to provide a clear answer, he mentioned the fire department was hiring. He said it would be a good fit.
I went to an EMT course because that was something that the department was starting to require. As soon as I stepped foot on my first ambulance for a clinical rotation, I ran my first true emergency call. It was a head-on collision. I was assigned to assist with taking care of some of the less critical patients. I really didn't do that much, but I knew that I was making a difference and I was needed.
From that first call, I was hooked. That was 27 years ago, and I still have a passion for taking care of patients.
You are co-founder of Puckett Emergency Medical Services, based in Cobb County, Ga. What are the challenges of running a private ambulance service?
Probably the biggest challenge of building a successful private ambulance service has been the ever-changing reimbursement rules and regulations that must be navigated.
The profit margins are very thin in the ambulance business. You must bring your A game every day in this business. There is very little room for error.
In 2007, you founded EMS Technology Solutions. What has this endeavor taught you about leadership?
Sometimes the best way to lead is to just get out of the way. Great teams are made up of people with different skills. As a leader, sometimes you must realize that someone else is a better quarterback than you are. Give them the ball and let them go to work.
This is how teams win – putting the right people in the right positions at the right time.
You are a 27-year EMS veteran. How has technology changed the industry?
In my opinion, technology has absolutely changed the industry for the better.
Technology has improved patient care. The flow of information throughout the call process has improved response times, decreased expenses by allowing us to better manage unit hours and has improved patient outcomes by allowing us to share information with the receiving hospitals prior to our arrival.
Twenty years ago most agencies were not utilizing GPS Systems for routing, transmitting 12-lead EKGs or using electronic patient care reports. In today's EMS environment, it is rare to not see these technologies being utilized by most services.
I feel that we have just scratched the surface of what technology will do for the EMS industry in the future. As battery technology becomes smaller and the devices and data becomes faster, we will see more advancements in EMS.
Telemedicine in the EMS environment is happening today and will become more common place.
I see the things like RFID technology that our development team has married together with Operative IQ, and I am amazed at how an entire ambulance can be inventoried in just a few seconds.
How has Operative IQ changed operations management?
Operative IQ has harnessed the massive amount of data that can be gathered from an agency's inventory and vehicles.
It is providing that data to supervisors and administrators so they can get a clear picture of what's going on with their operations.
Operative IQ is cutting down the nonproductive time used to manage vehicles, stations and supplies, cutting costs and limiting the risk and liability of operations by providing accountability and clear records.
How does Operative IQ help serve the evolving tech landscape in EMS?
In today's environment everything moves much faster. Demands on your services are greater, expectations are higher, and the amount of equipment and the supplies used in managing an operation are enormous.
Operative IQ has been able to lead and adapt to the changing landscape to serve hundreds of EMS and fire departments, helping them gain control over their operations by harnessing the data, reducing costs and better managing risk.
What are some of Operative IQ's main features?
Operative IQ is a modular system, so it can be used with the smallest of departments all the way up to the biggest of the big. There are four main components:
Inventory and Asset Management: handles the materials management, from inspecting a vehicle to purchasing and distributing supplies and assets
Narcotics Tracking: provides a biometrically verified cradle-to-grave custody log for controlled substances, greatly reducing the risk of diversion and making audits easy
Fleet Maintenance: can be linked to the daily vehicle inspections for real-time input on repairs needed, as well as managing all routine maintenance
IQ Genius RFID: tracks equipment, sealed cabinet inventory and speed loader bins using radio waves and GPS.
What is the greatest lesson you learned about using technology for EMS?
If you are going to survive in health care, you need to embrace technology. It's no longer an option.
Technology is going to continue to evolve, and if you are not engaged now, you will find it difficult to get up to speed later down the road when competitive pressures make it difficult to run a profitable operation.
For more information about EMS operational software, visit Operative IQ.

Request information from Operative IQ
Thank You!