PRESS RELEASE
Hydrants by Unified Solutions Brings Hydrant Management to Your Fingertips
---
PITTSBURGH, PA — Unified Solutions, an innovative software company focusing on the first responder community, has created an emergency management platform that integrates all aspects of fire and medical response. Included is a Hydrant Management system that makes locating, tracking, inspecting, and maintaining hydrants as easy as a few clicks.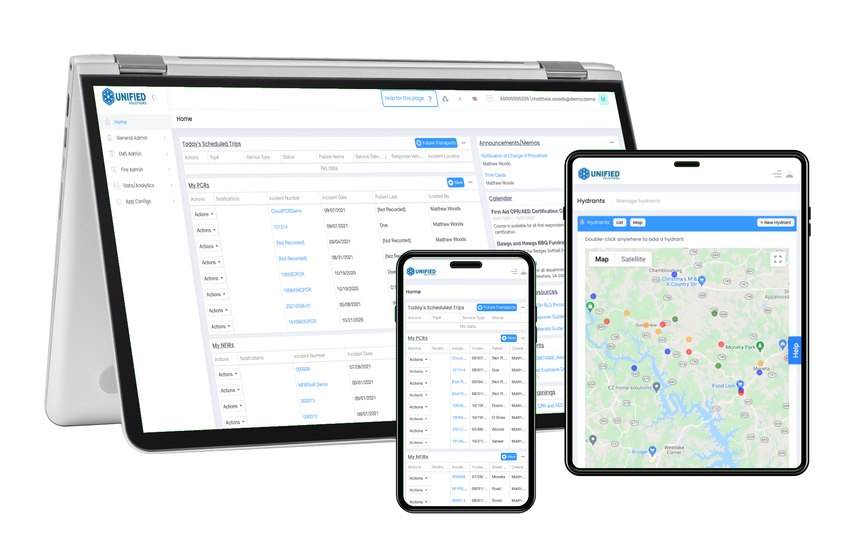 Key Features of Hydrants by Unified include:
Information at your fingertips: Click on a hydrant on the list or map to see location, static and residual flow, current flow rating assigned, required flow, total GPMs available, and if the hydrant is in service.
Simple to plot hydrant location: Plot the address and grid coordinates with the click of your mouse. (The Google Maps feature auto-populates most of your info, including grid coordinates.) You can also double click on the exact area of the map where you know there is a hydrant, and the program will automatically create an address and location for that hydrant.
Effortless to track: Manage the records for all your hydrants to include status, maintenance, and inspections. Simply log and track manufacturer, size of hydrant, date installed, most recent flow test date, and the shift that conducted the testing.
Furthermore, Hydrants by Unified works on any device and offline, so you can quickly utilize phones and tablets while in the field to access real-time info and generate necessary updates.
To demo the application for free, visit:
https://unified-solutions.io/hydrant-management/
About Unified: 
Unified Solutions is a fast-growing, innovative software company that focuses on the first responder community. They are currently in 27 states, many countries, multiple languages and expanding fast. They provide a comprehensive software suite including NFIRS, ePCR, Billing Services, Truck Checks, Learning Management System, Transport Scheduling, Crew Scheduling, and more. Since their founding in 2014, they have worked to make software solutions faster, more accessible, easier to use, and more data-driven.

Request more info from Unified Solutions
Thank You!