PRESS RELEASE
MSA Introduces New NIOSH-approved Ultra Elite® CBRN Gas Mask
---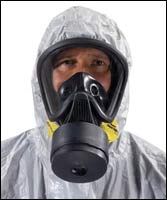 Pittsburgh, Pa. - On October 27, 2004, MSA received NIOSH CBRN approval for our Ultra Elite® CBRN Gas Mask. This new Gas Mask from MSA is designed to provide the fire service and law enforcement with effective respiratory protection against chemical, biological, radiological, and nuclear (CBRN) agents that might be used in a terrorist attack, according to the stringent live-agent test regimen of the NIOSH approval process.
Symbolizing safety, simplicity, and reliability, the Ultra Elite Gas Mask joins MSA's family of CBRN respiratory protection products for first responders to any incident, accident, or unknown threat. The Ultra Elite facepiece has been field-proven and trusted by law enforcement to provide an exceptional fit, comfort, and value.
Law enforcement usually rely on SCBA to provide the maximum amount of respiratory protection. When CBRN protection is needed, especially outside the immediate fire scene, air-purifying respirators (APR) may make the most sense for low concentrations of certain contaminants. The use of a common Ultra Elite facepiece platform for both APR and SCBA applications allows standardized training and eliminates redundant fit-testing.
The MSA CBRN Canister meets or exceeds all performance requirements of the new NIOSH CBRN Standard by effectively removing harmful gases, vapors, and particulates so that the user can confidently breathe safely. The canister contains chemical sorbents and a P100 filter to attract, retain, and neutralize contaminants. The optional ClearCommand® Amplifier can be added for increased communication capabilities
For ordering information, pricing, and availability, please contact MSA Customer Service at 1-888-MSA-0018 or visit www.MSAnet.com.