PRESS RELEASE
Globe, DuPont, and NVFC Announce Recipients of First Round of Gear Grants
---
In honor of Globe's 125th anniversary this year, Globe, DuPont, and the National Volunteer Fire Council (NVFC) have partnered to give away 125 sets of turnout gear to fire departments in need. The program has had a tremendous response, with over 2,600 volunteer departments across the U.S. and Canada applying for the grants. Globe, DuPont, and the NVFC are pleased to announce the recipients of the first two grants: Consolidated Fire Association (Bordentown City, NJ) and Lostine (OR) Fire Department.
"Globe is proud to be celebrating its 125th anniversary," said Rob Freese, Senior Vice President of Marketing and one of the fourth generation owners of Globe. "From humble beginnings and the inventor of the turnout suit to four generations of family practicing the craft applying the latest in innovation and technology. We are excited to pay forward in this way, creating good Karma for our next 125 years!"
"The outpouring of applications from thousands of departments in need demonstrates the importance of a program such as this," said NVFC Chairman Philip C. Stittleburg. "We are very pleased to join with Globe and DuPont to provide gear to struggling departments so they can offer the best personal protection to their members. Globe is an outstanding example of a company giving back and making a real difference in communities across the nation."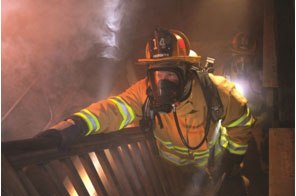 Consolidated Fire Association is an active volunteer fire department with about 35 members that serves the New Jersey communities of Bordentown City and Fieldsboro. They have been very successful in recruitment efforts by focusing on word-of-mouth recruiting of family members, neighbors, co-workers, and friends of their volunteers. With three to five new members joining every month, the department has been struggling to find gear to properly equip their firefighters. 
Up until now, the department has been trying to get by through the purchase of used gear other departments no longer want. Some members are left without gear because they can't find pieces that fit, and much of the gear they do have does not meet OSHA standards. Without any money in the tight budget to secure new gear, the department has been working hard to find grant funding and is thrilled to be among the first recipients of the Globe gear give-away program.  The donation of 12 new sets of state-of-the-art Globe turnout gear will go a long way in making sure the firefighters are properly protected while serving their community.
"We're really grateful we won the grant and will get the gear," said Fire Chief John Walls. "We have a lot of people joining and we don't have the gear to equip them. These 12 sets will make a big difference."
Walls also noted how the donation has resulted in a big boost to the department's morale. After struggling with ill-fitting gear dating over 10 years old, the most active members of the department will now be fitted for the new Globe turnouts
Lostine Fire Department serves the small, rural community of Lostine, OR. The department is funded entirely from the town, but recent cutbacks due to the economy have reduced the department's already low operating budget to just a few hundred dollars a year. While the town has spent years trying to raise money to purchase needed equipment, the 12 volunteer firefighters have had to make due with old hand-me-downs and whatever gear other departments will donate to them. The department's newest sets of turnouts date back to the 1980s, and most are older.
Through the Globe grant of 10 sets of turnouts, Lostine's firefighters will receive their first new, custom-fitted gear.
"This is amazing," City Manager Jody Burgess said of the grant. "I've been here 16 years and we've never had anything new at the fire department."
Mayor Krag Norton echoes the sentiment. "This is a huge thing to us. Everybody has been ecstatic about it. It is absolutely amazing."
Grant awards will continue to be made to volunteer departments throughout the year. Stay tuned to the NVFC web site at www.nvfc.org and the NVFC and Globe pages on Facebook for announcements. Thank you to all who applied for your selfless and tireless efforts to keep your communities safe.
About Globe
Globe is the largest and most trusted manufacturer of structural firesuits in the world. Over the years, Globe has been responsible for introducing many of the materials, designs, and construction methods we now take for granted in firefighter suits. Globe was the first manufacturer in the fire service to use DuPont NOMEX® inherently flame resistant materials. Learn more at www.globeturnoutgear.com.

About DuPont
DuPont (NYSE: DD) has been bringing world-class science and engineering to the global marketplace in the form of innovative products, materials, and services since 1802. The company believes that by collaborating with customers, governments, NGOs, and thought leaders we can help find solutions to such global challenges as providing enough healthy food for people everywhere, decreasing dependence on fossil fuels, and protecting life and the environment. For additional information about DuPont and its commitment to inclusive innovation, please visit http://www.dupont.com.

About the NVFC
The National Volunteer Fire Council (NVFC) is the leading nonprofit membership association representing the interests of the volunteer fire, EMS, and rescue services. The NVFC serves as the voice of the volunteer in the national arena and provides invaluable tools, resources, programs, and advocacy for first responders across the nation. Learn more at www.nvfc.org