Is EMS ready for another Ebola outbreak?
As the Democratic Republic of the Congo reports another Ebola outbreak, is EMS prepared with proper protocols and PPE?
---
By Allison G. S. Knox, faculty member at American Military University
The World Health Organization has reported another Ebola outbreak in the Democratic Republic of the Congo. According to the report, a total of 21 people have been reported ill by public health officials.
The Ebola Outbreak in 2014 in Africa posed several public health issues in the United States when three individuals within the United States contracted Ebola. One individual had returned from a trip visiting family when he fell ill. Two nurses who had cared for him also fell ill, one of them not realizing she was ill before traveling on an airplane, subsequently causing panic as to whether she had inadvertently spread Ebola across the country.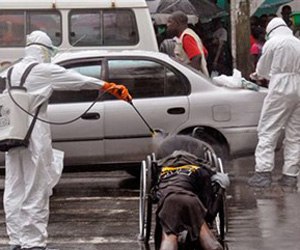 Unclear Ebola protocols can spread disease
In the wake of the Ebola outbreak on American soil, there were a few bureaucratic errors that could have allowed for a potential outbreak. As the initial Ebola patient was cared for by two nurses who later contracted it, it would seem that protocols were unclear on how to handle these types of patients, just as ABC news reported in 2014. Looking at the 2014 case, it would seem that individuals were not adequately trained to deal with the body fluids of an infected Ebola patient and that federal and state protocols were not followed.
This bureaucratic blunder would only create a sense of panic throughout the country as individuals worried about the quarantine procedures at the Texas hospital. Later, great measures were taken to prevent further outbreaks. This included the plane being completely sanitized after the flight, and the flight crew given 21 days of leave to make sure they were healthy before returning to work again.
Applying lessons learned from after-action reports to Ebola
Emergency management works best when there are lessons to be learned and that information is documented in after-action reports. From there, emergency managers learn how to tighten their emergency management plans and work to correct any issues for the next time a similar issue occurs.
With that said, the 2014 Ebola outbreak presented a couple of bureaucratic problems where protocols were concerned. Also, to a certain extent, the 2014 outbreak demonstrated inconsistencies in hospital staff knowledge of how to deal with Ebola. As a result, public health officials learned from the incident about how to prevent future outbreaks of Ebola.
Thus, if another outbreak occurs, the United States will hopefully be in a better position to prevent additional Ebola cases. But, it is highly advisable for hospitals, public health officials and EMS agencies to continue to hold in-service training sessions to make sure that staff are well prepared in the event of an Ebola outbreak.
About the Author 
Allison G. S. Knox is a faculty member at American Military University, teaching courses in Emergency and Disaster Management. Her research interests are comprised of emergency management and emergency medical services policy issues. Prior to teaching, Allison worked in a level one trauma center emergency department and for a Member of Congress in Washington, D.C. She holds four Master of Arts degrees in emergency management, international relations, national security studies and history. She is a certified lifeguard, MET and is also trained in technical large animal emergency rescue. Allison currently serves as advocacy coordinator of Virginia for NAEMT, chapter sponsor for the West Virginia Iota Chapter of Pi Gamma Mu International Honor Society, and faculty advisor for the Political Science Scholars. She is also on the Board of Trustees and serves as chancellor of the Southeast Region for Pi Gamma Mu International Honor Society in the Social Sciences. She can be reached at IPSauthor@apus.edu. For more articles featuring insight from industry experts, subscribe to In Public Safety's bi-monthly newsletter.