A smoother, safer way to transport
The SafeCare SpineBoard can carry a patient up to 1,000 pounds
---
NEW ORLEANS — Among the exhibits on show at EMS World Expo 2012 in New Orleans was the SafeCare SpineBoard.
The SafeCare SpineBoard easily creeps underneath an injured patient weighing up to 1,000 pounds to provide safer and smoother patient transport, claiming to minimize the risk of further injury on any surface (ice, grass, asphalt, etc.).
Safely moving a injured person, particularly if that person has suffered an injury to the head, neck or back, is a constant challenge in EMS. Log rolls and deadlifts can cause further injury to the patient and providers, and vacuum mattresses and scoop stretchers are sometimes complicated and time-consuming.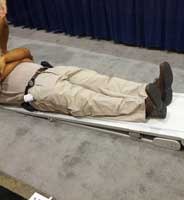 After placing the board square at either end of the patient, you can move the upper belt in one direction and the undercarriage in the opposite one with the handheld controllers. Once loaded, the patient can be secured like normal.
"You can use this just like any other backboard," said John Michael Spanton of SafeCare Innovations.
Removing the undercarriage at that point reduces the 60-pound SpineBoard's weight by almost half for transport.
The inventor of this product, the late John Bradford Spanton, received positive feedback after presenting it to the NFL, Mayo Clinic, the U.S. Military and others who agreed that the SafeCare SpineBoard was a safer, easier, gentler way to move patients.

Request product info from top EMS Patient Handling companies
Thank You!