PRESS RELEASE
Praetorian Digital Launches EMS1 Academy to Expand Online Training Efforts Across Public Safety
---

SAN FRANCISCO – Praetorian Digital, the leading digital media company in the public safety and local government market, today announced the launch of EMS1 Academy, anticipated to 
become one of the leading online training platforms serving both EMS departments and individuals nationwide.
EMS1 Academy combines the popular Medic Monthly Series and EMS Jane course library acquired in 2015 with EMS1.com's repository of expert articles, news analysis and video content as well as network of expert contributors. Launched in 2007, EMS1 is the leading online destination for EMS organizations, paramedics and EMTs, with a mission of improving patient care in the prehospital environment. The launch significantly expands Praetorian's online training portfolio, which includes the FireRescue1 Academy, FireEMS Academy, PoliceOne Academy, and LocalGovU.
Going forward, EMS1 Academy will offer more than 180 full-length training courses and 225 hours of EMS continuing education credit accredited by the Continuing Education Coordinating Board for Emergency Medical Services (CECBEMS). The combined library will include the popular Medic Monthly series and cover all facets of EMS training to create one of the largest repositories of EMS training in the world.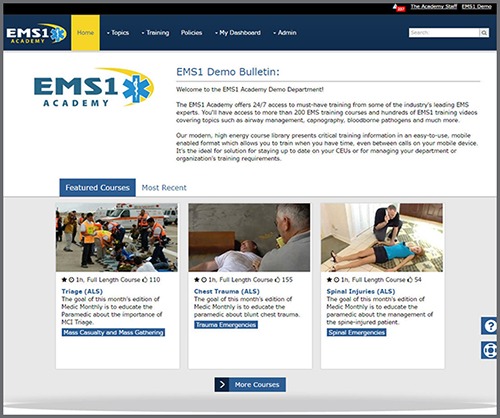 In addition, EMS1 Academy offers both public and private EMS services and organizations a comprehensive learning and records management system to streamline delivery and tracking of training, insure compliance and mitigate risk. Administrative features allow any agency to run an efficient and effective training program to improve quality of patient care, including group administration, credential management, custom course creation, assignments, offline training tracking and more – all customized to meet the needs of first responders.
"We are thrilled to expand EMS1's mission of improving patient care into the online learning space and to build upon the video-based and case-based training content we have been delivering to first responders for years," said Alex Ford, CEO of Praetorian Digital. "EMS1 Academy will deliver one of the largest libraries of high quality, dynamic EMS training content anywhere through our proprietary learning platform built specifically to serve first responders and EMS agencies across the U.S."
To learn more about EMS1 Academy, visit www.EMS1Academy.com.
About Praetorian Digital
Founded in 1999, Praetorian Digital is the leading digital media company in the public safety and local government market. Our properties are visited by more than 6 million public safety and local government officials every month and count over 1.3 million first responders and government personnel as members. Praetorian owns and operates PoliceOne.com, FireRescue1.com, FireChief.com, EMS1.com, Corrections1.com, Military1.com and Gov1.com as well as more than 15 topical websites providing resources ranging from accredited online training to grant funding assistance. We are deeply committed to providing cutting-edge information and resources that help first responders, government officials and military personnel better protect themselves and serve their communities. For more information, visit www.PraetorianDigital.com.
About EMS1
With 175,000 registered members and over 600,000 monthly unique visitors, EMS1.com serves the EMS community by providing a uniquely comprehensive set of resources. EMS1 is supported by Praetorian Digital, a proven leader in online public safety resources. For information on advertising with EMS1, visit our advertising section online www.ems1.com/ems-marketing-advertising.
About EMS1 Academy
EMS1 Academy's training courses feature actual case studies and fast-paced, high-energy videos. The courses are accompanied by interactive training for first responders, EMTs, and paramedics. Emergency personnel can expect to more easily maintain critical license compliance while keeping their skills and knowledge on the cutting edge with EMS1 Academy. For more information, visit www.EMS1Academy.com.