10 things you need to know to save lives (eBook)
Every second counts in the prehospital environment, so it's critical that EMS providers stay on top of the latest skills and strategies for saving lives
---
Sponsored by Pulsara
By EMS1 BrandFocus Staff
Cardiac arrest remains one of the most common EMS calls for service, followed by motor vehicle accidents.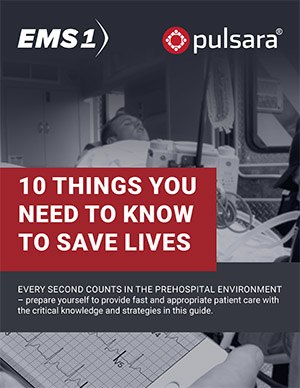 This eBook provides 10 things you need to know about three critical patient-care scenarios you're likely to face in the field – cardiac arrest, major blood loss and acute pain – as well as how to manage patient handovers, a crucial step in the continuum of care.
Download the free eBook to learn more about:
Hypovolemic shock.
Acute pain management.
Extracorporeal membrane oxygenation.
Patient handovers.
Use the knowledge and strategies in this guide to better understand these scenarios, then share it with your colleagues. Discuss your policies and procedures, implement changes and monitor improvements in patient outcomes.
Fill out the form below for your free download:
Get the 2020 edition of "10 things you need to know to save lives"