ECG Solution: The path (more) traveled
Did you pick the right treatment plan based off the patient's ECGs?
---
Editor's note: We asked columnist Tom Bouthillet to pick a winner to this month's challenge and he wrote: "For the April 2011 EMS 12-Lead column I picked whitecoatmedic as the winner, whose answer can be seen in the comment block.
He correctly identified the heart rhythm as atrial fibrillation in the setting of Wolff-Parkinson-White syndrome, he suspected that a radio-frequency ablation had previously been recommended to the patient (it had been), he cautioned against conventional rate-slowing medications for AF in the setting of WPW, and he recommended cardioversion for the hemodynamically unstable patient and procainamide for the hemodynamically stable patient.
The only thing he said that confused me is that we need to prolong rather than slow the refractory period of the accessory pathway relative to the AV node. To me, slowing and prolonging the refractory period are the same thing, but maybe 'whitecoatmedic' knows something I don't! Congratulations and enjoy the T-shirt and bottle opener."
 Haven't read the initial case presentation? Read: ECG Challenge: The path (more) traveled
Let's take another look at the patient's ECG.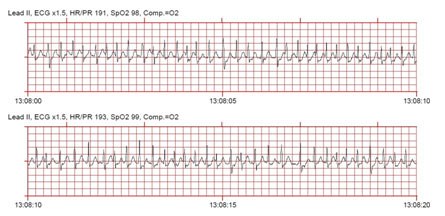 This ECG shows atrial fibrillation with rapid ventricular response.
Because the rate is so fast, we need to be concerned about the possibility of an accessory pathway. Your spider sense should start to tingle when you see the rate of atrial fibrillation approach or exceed 200 beats/min.
Specifically, when the shortest R-R interval is less than 240 ms (six small blocks) it should be considered atrial fibrillation in the presence of Wolf-Parkinson-White syndrome until proven otherwise.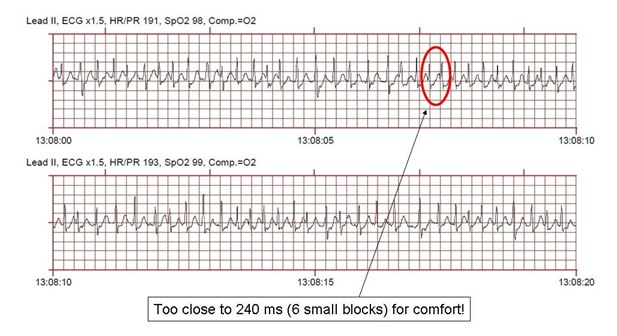 That's important because the wrong drugs here could kill the patient (by paradoxically increasing conduction across the accessory pathway precipitating VF).
Most of the "normal" AV nodal blocking agents are contraindicated in the presence of atrial fibrillation and Wolff-Parkinson-White syndrome (AF/WPW).
In fact, the only "safe" drug for this patient may be procainamide. That's one of the many reasons I'm a fan of synchronized cardioversion.
Granted, witnessed VF would probably respond to defibrillation but it's best to avoid such situations whenever possible!
Fortunately, in this case the rhythm converted on its own.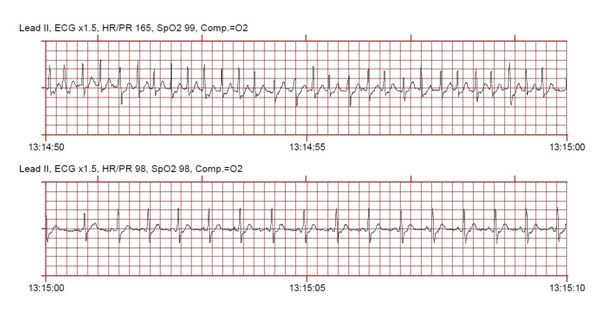 A 12-lead ECG was obtained.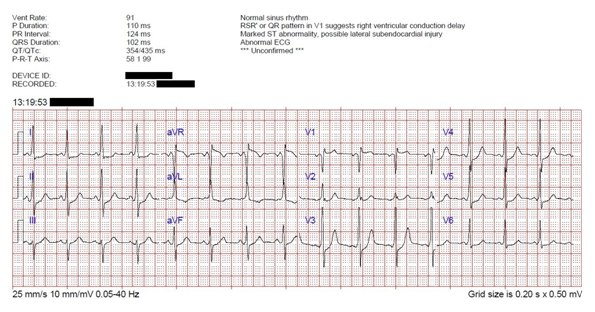 While they are subtle, we can now see the delta waves of Wolff-Parkinson-White syndrome (preexcitation) in several leads.
I asked Mark P. of the
Electrophysiology Fellow blog
and he opined that it's most likely a right anteroseptal accessory pathway.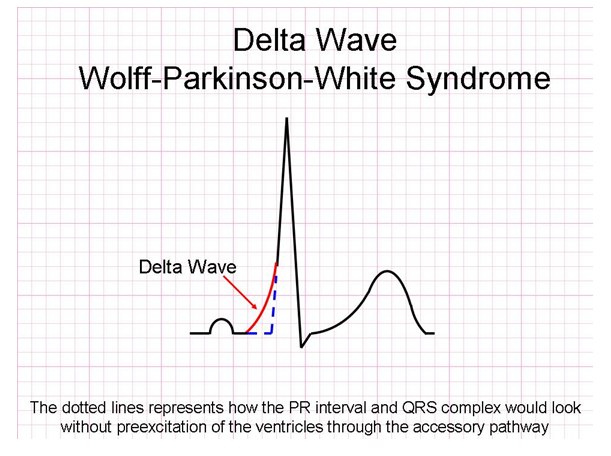 The patient was transported to the emergency department and signed out AMA after a short stay.

Request product info from top Medical Monitoring companies
Thank You!