PRESS RELEASE
Philips enhances point-of-care ultrasound with Reacts platform for remote collaboration and virtual training
---
AMSTERDAM — Royal Philips, a global leader in health technology, in partnership with Innovative Imaging Technologies (IIT), today announced an industry-first integrated tele-ultrasound solution based on Philips' Lumify portable ultrasound system and powered by IIT's Reacts collaborative platform.
This innovation connects clinicians around the globe in real time by turning a compatible smart device into an integrated tele-ultrasound solution, combining two-way audio-visual calls with live ultrasound streaming. This innovation in point-of-care ultrasound brings endless possibilities to its users both inside and outside hospital walls.
With this intuitive, easy-to-use integrated system, clinicians can begin their Reacts session with a face-to-face conversation on their Lumify ultrasound system. Users can switch to the front-facing camera on their smart device to show the position of the probe. They can then share the Lumify ultrasound stream, so both parties are simultaneously viewing the live ultrasound image and probe positioning, while discussing and interacting at the same time.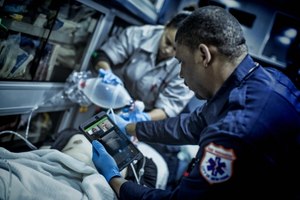 In addition to clinicians seeking virtual guidance, Philips Lumify with Reacts is a valuable tool for teaching institutions, medical students and residents, emergency medical service providers, disaster relief providers and hospitals with satellite clinics.
"By combining exceptional mobility and reliability, Philips Lumify with Reacts will open up new doors for the way clinicians collaborate, educate and train," said Randy Hamlin, Point-of-Care Business Leader, Philips. "This all-in-one tele-ultrasound solution will enhance care delivery by bringing even more confidence to ultrasound clinicians and removing longstanding barriers in education, support and training."
Breaking down barriers in a wide range of care settings
Lumify with Reacts can help advance patient care by bringing experts into an ultrasound exam anywhere in the world:
A professor can go on virtual ultrasound rounds with students, helping them learn anatomy and probe positioning quickly and efficiently, unrestricted by location. 
A doctor can consult a colleague and receive expertise and guidance using live streaming ultrasound.
A midwife in a remote location can call upon an obstetrician in a different location to receive perspective and guidance, discussing the ultrasound exam as if they were in the same room.
An emergency medical technician in an ambulance can stream the live ultrasound exam and discuss a patient's condition with an emergency department physician, expediting care delivery upon arrival.
"Philips was the ideal partner for this revolutionary collaboration. Reacts' secure, versatile and interactive collaboration platform deployed on technology solutions like Philips Lumify can change education and patient care models and enable a positive disruptive change to healthcare," said Yanick Beaulieu, MD, CEO and founder of IIT. "For years, clinicians in the field have been trying to piece together systems that offer real-time, interactive tele-ultrasound capabilities. Now it has truly arrived."

Philips is a leader in ultrasound solutions with a large global installed base and strong track record of industry-first innovations in areas such as 3D imaging of the heart, quantification tools driven by Anatomical Intelligence, and ultra-mobile, portable ultrasound solutions.
Philips' ultrasound portfolio supports the effective and efficient delivery of care across a broad range of clinical specialties including radiology, cardiology, point-of-care and OB/GYN. 
Experience Lumify with Reacts at AIUM 2018
Customers interested in learning more about Lumify with Reacts, which is available globally everywhere Lumify is sold, can visit: www.philips.com/lumifywithreacts. Stop by the Philips booth #1108 at the American Institute of Ultrasound in Medicine (AIUM) Annual Convention, in New York City, from March 24-28, to experience Lumify with Reacts and the latest innovations from Philips Ultrasound. Follow @PhilipsLiveFrom and @PhilipsLumify for updates throughout the conference. 
About Royal Philips
Royal Philips is a leading health technology company focused on improving people's health and enabling better outcomes across the health continuum from healthy living and prevention, to diagnosis, treatment and home care. Philips leverages advanced technology and deep clinical and consumer insights to deliver integrated solutions. Headquartered in the Netherlands, the company is a leader in diagnostic imaging, image-guided therapy, patient monitoring and health informatics, as well as in consumer health and home care. Philips' health technology portfolio generated 2017 sales of EUR 17.8 billion and employs approximately 74,000 employees with sales and services in more than 100 countries. News about Philips can be found at www.philips.com/newscenter.

Request more info from Philips
Thank You!